more news
Multimedia major Nikki Williams is intern at Fourth Economy Consulting
Wednesday, February 6, 2013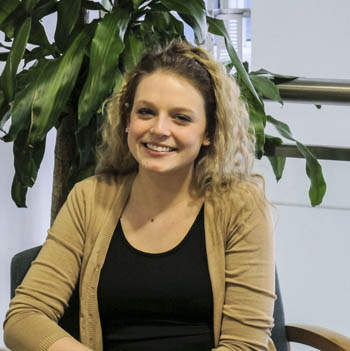 Meet Nikki Williams
Internship:
Fourth Economy Consulting
Major:
Multimedia
Expected graduation:College activities:
Campus LifeUnited Student Government
Hobbies/interests:Hometown:High School:Dream job:
What are some of your key responsibilities as an intern at Fourth Economy?
Some of my key responsibilities are coming up with ideas for social media strategies, using my skills in Adobe to work on design projects and updating the company's Wordpress website. I work with the communications director and each day is something totally new and different.
How did you land your internship?
I was contacted through the Career Development Office and they said I should apply. I read the intern responsibilities and instantly knew Fourth Economy would be a great fit for me. They were looking for someone with experience in writing, design and social media. I applied right away and got an interview that very same week.
Please list any internship experience you've had at Point Park.
The summer of 2012 I interned with Pittsburgh Downtown Partnership as their marketing/communications/events intern. It was my first internship and it was an amazing experience. I made so many great connections, and I got to update the Twitter and Facebook page for the organization, as well as write for their weekly e-newsletter.
How have you incorporated the skills you learned at Point Park into the work you do at your internship?
At Fourth Economy, I get the chance to incorporate all of my favorite things about my major. I don't just focus on social media or design. I get to do a little bit of everything. One day I'm designing a certificate to send out to the best counties in the country and the next I'm updating the company website. I love getting to dabble in all of the things I enjoy doing, and not just being restricted to one small field of work.
What is your favorite thing about your internship?
I love working in Downtown Pittsburgh, as well as in a small office. I got to know the staff very quickly since there's only a few people in the office. It made me feel like I was an important member of the team right away.
In what ways do you think this internship will help you with your career goals?
I think getting any real-world experience in your field is great for obtaining your career goals. Having a resume with multiple internships looks great to potential employers.