more news
Multimedia student spends summer interning at CMT
Wednesday, July 20, 2011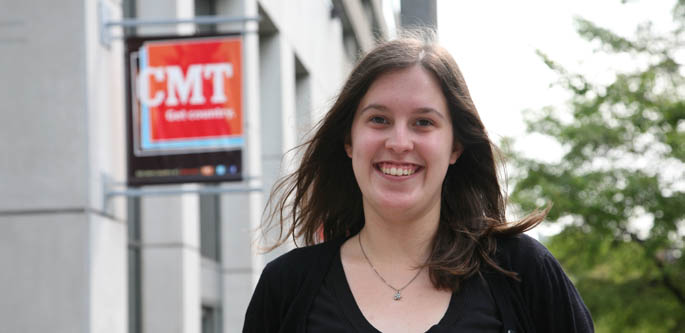 Amanda Hertzog, a multimedia major from Indiana, Pa., is spending her summer as the digital imaging intern for the .com department of Country Music Television in Nashville. | Photo by Brian Tipton
Meet Amanda Hertzog
Major: Multimedia
Year: Senior (class of 2012)
Hometown: Indiana, Pa.
Internship: Digital imaging intern at Country Music Television
Describe your internship duties.
The main thing I'm responsible for is resizing and editing photos that are needed for different areas of the website. People put in requests, and I have to find the specific photo they asked for or select one that would work. I also update artist photo galleries and the images that appear on the artist pages with photos that are passed on to me by my supervisor. Most of what I have been doing in Photoshop I already knew how to do, but there were a few different publishing tools and programs that I had to learn how to use. I also had to learn how to use subscriptions sites like Getty Images to get images to build photo galleries for events and news items.
What was your favorite moment during your internship?
I loved working during the CMA Music Festival. The hours at the office were long that week, but during slow periods, it was fun to go out and see the festival. The street where a lot of the events took place is one over from CMT, so being that close to everything was amazing. I was able to see a lot of my country favorites live because of all of the shows that were happening around downtown.
What are your career goals and how do you think this internship will help you?
Music has always been a huge part of my life, so my goal is to work for a company that deals with music every day. The atmosphere at CMT was really laid back, and there was almost always something going on, so it was easy to wake up and want to go to work. Interning at CMT has helped me see the amount of work that goes into making everything work the way it's supposed to. It also helped me pinpoint which areas I'm skilled in and which areas I still need to improve. Being able to see what everyone does every day has really helped me get a feel for what I will hopefully be doing after I graduate.
Why did you choose Point Park University?
I chose Point Park for its location and size. I knew I wanted to go to a school that was close to or in a city because I like being in a busy environment. The size of the school was also a major factor. It's fairly small, so you can get to know the professors and other students you come in contact with pretty well. I ran into a few professors I had one class with three years ago, and they still remembered who I was. Another thing I really like about the University and the School of Communication is that everyone is always willing to help if you ask for it. My professors and advisers, both in financial aid and on the academic side, have always been willing to meet with me and answer any questions I've had. I think that's also a benefit of going to a school that's on the smaller side.
What advice do you have for students entering Point Park's multimedia program?
The program is set up to have students take a little bit of everything, which is very important. It's good to have an idea of how the different parts of media work and how they're all connected. Definitely spend a lot of time in your area of interest, but try to take a few classes outside of the program too, like an advertising, PR or broadcasting class. Developing good time-management skills is also a must. I scheduled a bunch of classes that required mostly out-of-class time to get assignments done in the same semester, so I had to learn to balance all of that work with work for other classes.