more news
New darkroom gives photo students better workspace
Thursday, October 29, 2009
Renovated space has twice the size, more efficient design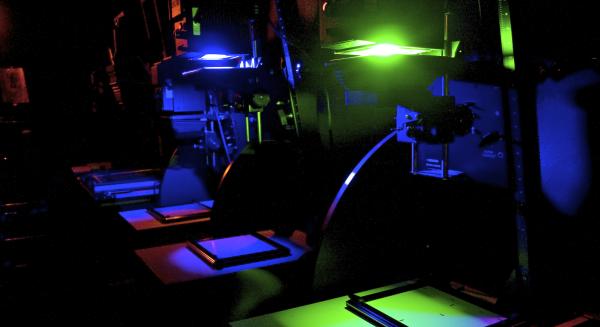 Right after spring term ended, work began on a high-priority project for the School of Communication's photography classes: renovation of the small, awkward black and white darkroom into a bigger, more efficient space that gives students plenty of room to work.
"The new darkroom has made it so much better for the students - they have enough room to do their work, and the layout is designed to reflect the workflow they need to follow," says Christopher Rolinson, assistant professor of photojournalism, who worked with Point Park's Physical Plant Department on designing and building the new space. "It's great."
For the renovation, crews pulled down walls of an adjacent office to gain space. The new darkroom layout is twice the size and has two sinks and 16 enlargers, compared to one sink and eight enlargers before.
Five new color enlargers will be used in a class to be offered this spring term. The renovation included special new lighting system so that the lab can be converted to a color darkroom with the flip of a switch, Rolinson said.
The darkroom is also designed to accommodate anyone with a physical disability. One of the enlarger stations sits at a lower level and the darkroom entrance, previously a spinning door, is now a barrier-free series of 90-degree turns that keep light out.
Outside the darkroom itself, the finishing room equipment and work areas were reconfigured to significantly improve workflow, helping busy students work more productively. The entire renovation was completed just before the start of fall term.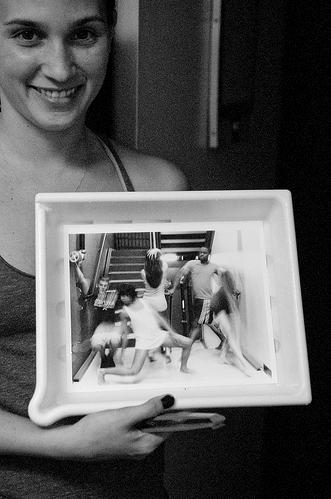 Rolinson has found that the improved facilities allow him to make better use of class time for the students. Instead of splitting a group between the classroom instruction and darkroom work, he now has space to keep everyone together during the whole class session, giving students more opportunities to work collaboratively.
The renovation has delighted photography students, Rolinson says. "They're tickled pink. They like that it's been done."
"I came back and it was all new," says senior Stephanie Mas, a dance major taking the school's advanced black and white photography class during fall 2009. "It's really nice."
Mas made the first print in the new darkroom, developing an image she shot for a class assignment to show motion. Her photo shows five dance friends moving about a stairwell landing in Point Park's Dance Complex.
When Mas emerged from the darkroom with her print, Rolinson captured the moment - in black and white, of course. His photo is at right.
Rolinson feels strongly that mastering the fundamentals of film and darkroom work gives students an invaluable physical connection to the photographic process, especially as they progress to digital photography.
"When you use a manual camera and film, you have to slow down, be patient and really think about what you're going to put in your photo," Rolinson said. "It makes the students better digital photographers."
Top photo by Bethany Foltz
Bottom photo by Christopher Rolinson