more news
Part-time professor's book details hockey team's rebirth
Wednesday, November 2, 2011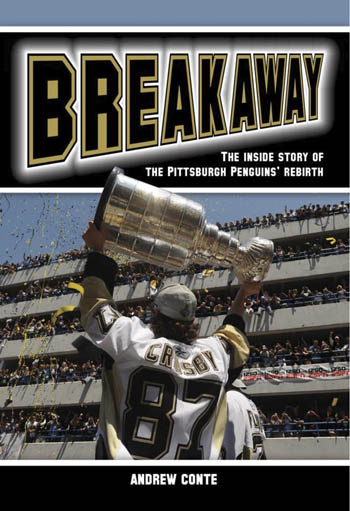 Andrew Conte, a School of Communication part-time professor and director of the Point Park News Service, goes behind the scenes in his book Breakaway: The Inside Story of the Pittsburgh Penguins' Rebirth.
The book details the Penguins' journey from bankruptcy and losing seasons to its 2009 Stanley Cup win and the opening of its new arena in the summer of 2010.
Conte, an investigative reporter for the Pittsburgh Tribune-Review, spent more than two years researching, conducting interviews and writing the book.
After its release on Oct. 18, Breakaway was the top-selling hockey book on Amazon, and the next week, Nielsen BookScan ranked it among the top sports books and hardback sports book in the United State, as well as among the top books of any kind sold in Pittsburgh for the week.
The book, published by Blue River Press, is available at www.breakawaypenguins.com.