more news
Photographer to discuss her project on sustainable food practices
Friday, October 21, 2011
Christin Boggs coming to Point Park as part of photographic arts lecture series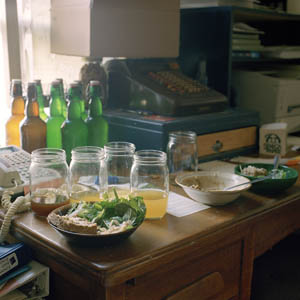 Christin Boggs' photograph, "Slow Food Dinner, Small World
Bakery," 2010.
Point Park University invites the public to a free Speaking Light lecture on the photographic arts, Friday, Oct. 28 at 6 p.m. in Thayer Hall's JVH Auditorium. The featured artist, Christin Boggs, will discuss her series Slow & Steady, a project that explores alternatives to America's fast food culture.
Slow & Steady most recently was exhibited as a solo show by Boggs at the Rochester Regional Community Design Center. The artist holds a M.F.A. in imaging arts from Rochester Institute of Technology and a B.F.A. in art and visual technology from George Mason University. Her studio is located in the Washington, D.C. area. Slow & Steady reflects the artist's interest in promoting sustainable food practices through photography, community development and a blog, which details news and events and works in progress.
Before the artist's Oct. 28 lecture, students and members of the public are welcome to share their photography projects in an informal portfolio session from 5 p.m.-
6 p.m.
Speaking Light, the Point Park University School of Communication lectures on the photographic arts, continues with artists Filippo Tagliati on Nov. 18, John Holmgren on Jan. 27, 2012, and Tom Persinger on Feb. 24. All events are held in the JVH Auditorium in Thayer Hall.