more news
Photography, Engineering Department Collaborate on Time-Lapse Camera Dolly Project
Tuesday, May 21, 2013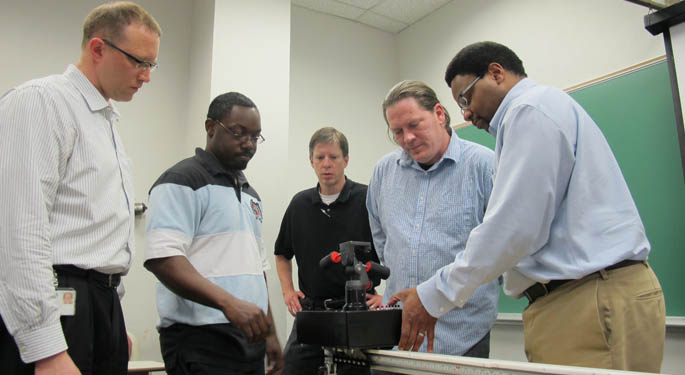 Left to right: Raymond Fortuna, Rhyan Cochrane, Gregg Johnson, Ph.D., Christopher Rolinson and Demetrius Grimsley
Photography students will have the opportunity to practice their skills on a new time-lapse camera dolly built by their own Point Park classmates in the engineering technology department.
The camera dolly project began last summer when Christopher Rolinson, associate professor of photography and photojournalism, proposed the idea to the Professional Problems in Engineering Technology class, taught by Gregg Johnson, Ph.D., associate professor of electrical engineering technology.
Raymond Fortuna, a civil engineering technology student, decided to get the project started. "I liked the idea of manufacturing an actual product and I have experience with procurement through my employer," said Fortuna, a marketing specialist for aftermarket parts and services at Siemens Energy, Inc.
The project was then picked up and completed in the spring semester by electrical and mechanical engineering technology students Rhyan Cochrane and Demetrius Grimsley.
According to Cochrane and Grimsley, the camera dolly took about 100 hours to complete over the course of 15 weeks.

Cochrane, a customer design technician at American Electric Power, was responsible for designing the entire control system, including electrical hardware and software.

"Building the camera dolly exposed me to working with other engineering disciplines, such as electrical engineering, to accomplish tasks efficiently. Overall, the project instilled team work and communication skills," said Grimsley, a mould shop and tool designing manager for Kopp Glass, Inc.

Market price for a camera dolly ranges from $600 to $900. The students stayed within their budget and kept the cost of their final product to around $500.
"A significant project like this can be such a learning experience for aspiring engineers. Not only does it give them a chance to put some theory into practice, but it exposes them to the intangibles of working in a team, working for a customer and working within a schedule and budget," remarked Johnson.
"The students did a great job readying the system for testing. There are bound to be kinks to work out, but that is the nature of product development," he added.
Just days later, Rolinson and two photography students first used the new camera dolly at this year's commencement.
"We ran into a few minor problems, but overall we were successful in capturing footage with it," explained Rolinson. "I plan to use the dolly in my digital photography class this fall as a way to demonstrate time-lapse photography."
For many photography students, this will be their first foray into producing a visual in motion, said Rolinson, who hopes to work with Point Park's engineering technology students on future projects.
"Collaboration often becomes a feel-good buzzword. In this case, however, true collaboration was achieved," said Johnson.
Photos
More About: photojournalism