more news
Photojournalism alum documents Project HOPE mission
Monday, December 27, 2010
Kristopher Radder volunteers for South America project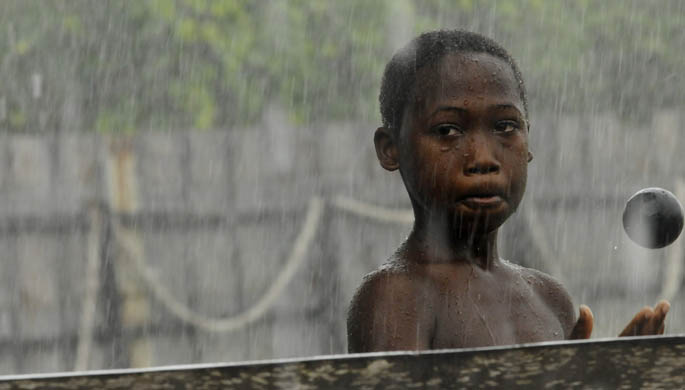 Above: A boy plays with a cricket ball in the rain. School of Communication alumnus Kristopher Radder shot the photo in one of the locations visited by the Project HOPE team. Below: Radder suited up for duty on the Project HOPE mission.

When Project HOPE put out a call for journalism professionals, Kristopher Radder answered. The 2009 photojournalism and mass communications graduate was working as a freelance photographer in Corning, N.Y., near his hometown when he read the volunteer job posting online in early 2010.
"I knew it presented an amazing opportunity, so I applied" said Radder.
He was accepted based on his strong educational background and months later traveled to northeastern South America as a volunteer public affairs officer with Project HOPE, taking photographs and blogging about "Operation Continuing Promise" missions in Guyana and Suriname.
Project HOPE is an international health education and humanitarian assistance organization that works in more than 36 countries around the globe. In 2010 the organization worked with "Operation Continuing Promise" to join U.S. military personnel and civilian relief volunteers in offering medical and veterinary care and infrastructure improvements in eight nations.
Radder documented the successes and challenges of the missions in Guyana and Suriname over three weeks from October to November 2010. He photographed individuals undergoing medical and dental treatments, military personnel rebuilding schools and infrastructure, and local children interacting with the volunteers. He also wrote blogs about the work accomplished on land and aboard the USS Iwo Jima, an amphibious ship.
"An experience like this changes you," says Radder. "The local people were so appreciative of all of the services offered. They were gracious about everything, including having photographs taken."
After returning, Radder went back to work for The Leader in Corning.He is currently a freelance photographer for a "Day in the Life" series published online weekly and in print monthly and covers sporting events and general news.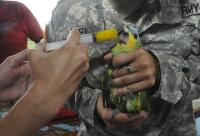 More photos
Photojournalism
at Point Park
His freelance photos have been published in The Boston Globe, New York Daily News, Chronicle of Higher Education, Pittsburgh Tribune-Review and the Pittsburgh Jewish Chronicle. An internship with the New York State Assembly in early 2010 resulted in photographs being published in the New York Times and regional newspapers and websites.
Radder credits the hands-on education and activities at Point Park as key to his success. He served as a photographer and photo editor at the University's student newspaper The Globe, as president of the National Press Photographer's Association chapter, and helped to found the Student Media Leadership group, among other roles.
Radder says the School of Communication faculty supported him as a student and continue to do so now that he is an alum.
When he returned from Project HOPE, Radder turned to Assistant Professor Christopher Rolinson, his former advisor, and others for help selecting images for a collection. Rolinson later discussed the images with current students.
"Our graduates often stay in touch with the faculty," says Rolinson. "We are always interested in seeing new work and helping them expand their professional networks."
"Chris Rolinson taught me the business side and skills set needed to make it into the field of photojournalism," Radder says. "(Professor) Helen Fallon provided constant motivation, and (Photographic Facilities Coordinator) Jesse Colaizzi helped me as well. I will certainly continue to keep in touch with Point Park."
Photos courtesy of Kristopher Radder