more news
Photojournalism Major is a Mark of Excellence National Award Winner
Tuesday, October 10, 2017


Meet Gracey Evans
Major and expected graduation: Photojournalism, Spring 2019
College activities: The Globe, NPPA, WPPJ and SPJ
Point Park Scholarship: Founders Scholarship
Internships: Photography intern at the Pittsburgh Post-Gazette and Pittsburgh Riverhounds
Hometown: Murrysville, Pa.
High school: Franklin Regional High School
Hobbies/interests: Photography, singing, ice skating, working, playing with my cats, baking apple pies and cheering on the Pittsburgh Steelers and Penguins.
You are a 2016 Mark of Excellence National Award winner. What does winning a national award mean to you?
Winning a national award makes me feel proud to be a student at Point Park and puts my school on the map to show that there is real talent here. It also makes me believe that I can go the distance and maybe one day reach my goal to become a Pulitzer Prize-winning photojournalist.
Tell us about your winning photo, why you chose to submit it and how it portrays the work you do as a photojournalist.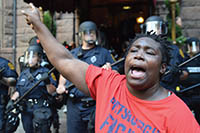 Josh Croup, former editor-in-chief of The Globe, submitted my photo to the Society of Professional Journalists' Region 4 conference in Detroit, Mich.
I originally didn't want the photo on the front page because I had photos of students who went to Point Park from that protest. I believe this photo portrays how much I have grown as a photojournalist after my internship with the Pittsburgh Post-Gazette, and how much I learned from the photographers and photo editors.
What types of networking opportunities did you have at the national conference in California?
There was an exhibitors fair that had different news organizations set up for students and attendees to visit and talk to. I was personally drawn to the Los Angeles Times, New York Times, The Boston Globe and USA Today.
How will you apply what you learned at the conference to the work you do at Point Park?
One of my favorite sessions I attended was about Google News Lab and the different techniques you can use to get your information. I found it very interesting and knew that I could take this information back to The Globe to help us.
What have been some of the most rewarding experiences as a photojournalism major at Point Park.
I think two of the most rewarding experiences I have had so far was going to the Presidential Inauguration in Washington, D.C., to cover the protests with The Globe, as well as attending the Excellence in Journalism Conference in Anaheim, Calif.
What do you love most about being a Pioneer?
Becoming a part of The Globe allowed me to get involved the first day of college. The real-world experience I have gained from The Globe, I believe, led to me to be able to win the national award. The Globe is what I am most proud of.
Lead photo by Nick Koehler, freshman photography major
More About: Franklin Regional High School, student competition, The Globe, Pittsburgh Riverhounds, photojournalism, NPPA, School of Communication, SPJ, WPPJ