more news
Photojournalism Program Equips Alumnus with Skills to Excel in the Real World
Thursday, June 1, 2017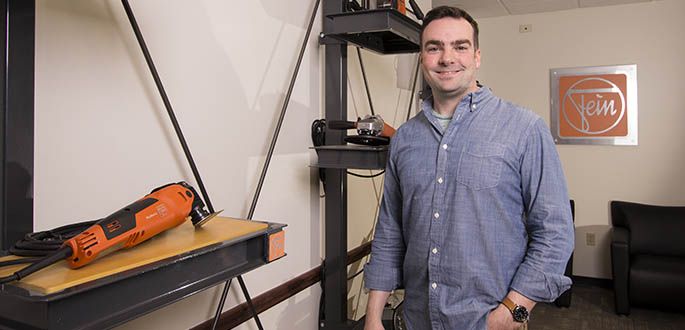 Meet Kevin Moran
Job title: Marketing Coordinator
Employer: FEIN Power Tools Inc.
Degree earned at Point Park: B.A. in Photojournalism, 2009
College activity: The Globe
Internship: Photographer, JENESIS Magazine
Hometown/living in: Pittsburgh, Pa.
High school: Baldwin High School
Hobbies/interests: Photography and woodworking
LinkedIn: Kevin Moran
Why did you choose to transfer to Point Park?
I transferred to Point Park from Community College of Allegheny County because of the Downtown Pittsburgh location and the great communication programs. My father, who is also a Point Park alumnus, suggested the school to me. Photography was always something I was passionate about and when I was searching for schools, Point Park was one of the most well-rounded universities that offered a great photojournalism program.
What was it like going to school in Downtown Pittsburgh?
I enjoyed being close to so many places in the city. Everything I needed was within walking distance to campus, and to be in an area with so much history was really interesting. Plus, there was always something for me to photograph!
What are some of your favorite Point Park memories?
My time at The Globe provided me real-world experience and the opportunity to meet lifelong friends.
Tell us about your current responsibilities at FEIN.
I design brochures, fliers and marketing collateral. I am also the in-house photographer and videographer. I was a good fit for this role because I was a well-rounded candidate with photography, writing and design skills.
What do you enjoy most about your job?
I really enjoy creating something that can be distributed and that people get to see. It's cool to be able to take something from an idea, design it on your computer, print it and get it into the hands of others.
What are your career goals?
I would like to continue to advance in the marketing communications industry while still trying to incorporate photography, editing and design into my career.
What tips do you have for an incoming student?
Participate in programs that are geared to your major. Point Park has some great extracurricular programs that will not only help you get ready for life outside of school, but will let you meet people with similar interests and goals.
Is there anything else you would like to add?
I met my wife - Jessica (LaDow) Moran - at Point Park. We were neighbors in Lawrence Hall.
More About: transfer, photojournalism, photography, alumni, success story, The Globe, Baldwin High School