more news
Pittsburgh sports broadcasters offer career advice to Point Park students
Monday, November 5, 2012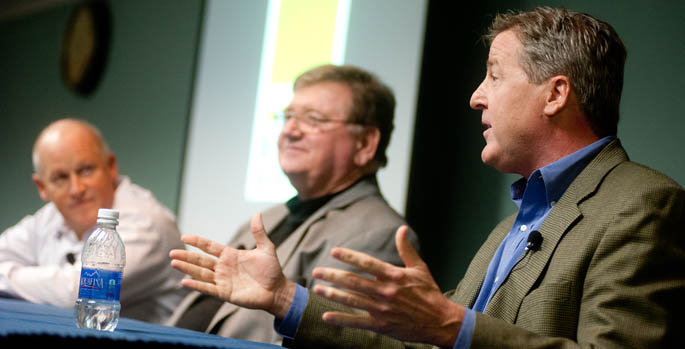 Sports announcers Paul Steigerwald, Bill Hillgrove and Greg Brown respond to student questions during The Voices of Pittsburgh Sports event.
The Pittsburgh Center for Sports Media and Marketing welcomed legendary Pittsburgh sports play-by-play broadcasters to Point Park's campus for the first time on Oct. 18.
The Voices of Pittsburgh Sports event featured Bill Hillgrove (Steelers), Paul Steigerwald (Penguins) and Greg Brown (Pirates). The broadcasters led a question-and-answer session with Point Park students offering advice about pursuing a career in the sports media industry.
"These types of events help students prepare for their careers because they hear advice from real-world working professionals," said Courtny Jodon, junior broadcasting reporting major and a member of the center's student advisory board.
Fellow student advisory board member Evan Schall agreed. "The event was a great opportunity for students to network with sports announcers we've grown up listening to," said the junior sport, arts and entertainment management major. "It's so awesome that we got to meet them and ask questions."
Here are some of the questions asked by the students:
Q: What's the best path to take after graduating from Point Park?
A: "Stay versatile and let the gentle winds push you. It takes time to work your way to the top, so be patient and work hard." - Bill Hillgrove, radio voice of the Pittsburgh Steelers and the University of Pittsburgh sports network.
Q: How do you make broadcasting games exciting?
A: "I don't make it exciting, the game is what makes it exciting. You have to have a passion for what you do and that applies to anything you do in life. That way it's not work, it's fun." - Greg Brown, former Point Park student and radio/TV announcer for the Pittsburgh Pirates.
Q: What makes your interviewing style unique?
A: "You have to have a natural curiosity to be a good listener and you have to ask questions succinctly. One trick I always share with students is when you formulate a question and get an answer, pay very close attention, because the response might lead to the question you were going to ask next." - Paul Steigerwald, play-by-play announcer for the Pittsburgh Penguins on ROOT Sports.
With more than 99 years broadcasting experience combined, the panelists agreed with Steigerwald's observation about doing play-by-play in Pittsburgh: "To be able to work in your hometown covering the teams you grew up rooting for is really special."
Event Photos
More About: Pittsburgh Penguins, Center for Sports Media and Marketing, Pittsburgh Steelers, School of Communication, Pittsburgh Pirates