more news
Pittsburgh sports broadcasters to speak at Point Park Oct. 18
Friday, October 12, 2012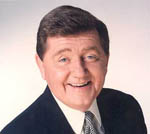 Bill Hillgrove
The Pittsburgh Center for Sports Media and Marketing will host its first event of the 2012-13 academic year, The Voices of Pittsburgh Sports, on Thursday, Oct. 18, at 1 p.m. in the Student Center, room 701.
Pittsburgh sports announcers Bill Hillgrove, Paul Steigerwald and Greg Brown will speak to students and answer their questions about sports broadcasting.
Hillgrove has served as the radio voice of the Pittsburgh Steelers for 18 seasons.
Steigerwald is in his seventh season as play-by-play announcer for the Pittsburgh Penguins telecasts on ROOT Sports.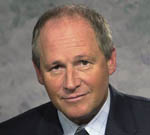 Paul Steigerwald
Brown, a Point Park alumnus, has worked as a radio and television announcer for the Pittsburgh Pirates for 19 seasons. He began his career with the Pirates when he was hired as an intern while attending Point Park.
This event is open to all students.
The Pittsburgh Center for Sports Media and Marketing, part of Point Park's School of Communication, focuses on regional, national and international topics and trends in the fast-growing sports industry.
The center brings leading executives from all facets of the sports industry to the Point
Park campus to speak at workshops and seminars.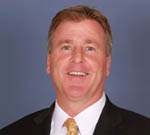 Greg Brown
These events give Point Park students the opportunity to hear from top industry professionals about best practices and principles within sports media and marketing and to make networking connections that can be vital to pursuing a career in the sports industry.
For information on future seminars and workshops, visit the School of Communication news page.