more news
Point Park News Service Class Lets Students Dig into Campaign Ad Spending
Wednesday, December 12, 2012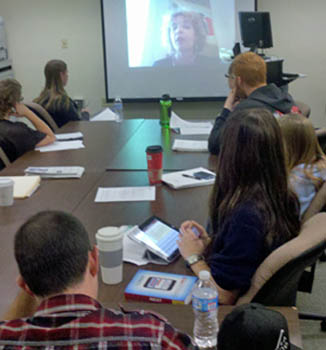 Kathy Kiely, managing editor of the Sunlight Foundation,
speaks with students via Skype.
School of Communication students enrolled in the Fall 2012 Point Park News Service class participated in a unique assignment to obtain and document the money trail for the election campaign advertising buys.
"This was a great opportunity for my students to get involved with a national project entering data to figure out the demographics of ad purchases," said Andrew Conte, adjunct professor and an investigative reporter for the Pittsburgh Tribune-Review .
The class of eight worked via a Skype session with Kathy Kiely, managing editor of the Sunlight Foundation in Washington, D.C., to learn more about how to search through public files to determine who was paying for political advertising.
"This was a win-win situation for students to gain experience digging through these files and it also provides the public with information they have a right to know," said Kiely.
Audrey Prisk, a senior double majoring in journalism and dance, is among those who took the class.
"This class has been the best journalistic experience I've had at Point Park," said Prisk. "It gave me a chance to do real-world reporting while looking through public files at radio and television stations in Pittsburgh."
Fellow classmate Gregg Harrington said that after completing this assignment, he feels more confident to pursue a career as a journalist.
"This class provided hands-on training to dig for information and look under the proverbial rug for the story," said the senior journalism major. "Before taking this course, I was really only savvy with lighthearted features and stories along those lines, but now with this project behind me, I think I can confidently take on hard news that matters."
Photo by Andrew Conte