more news
Point Park Photojournalists Document Medical, Veterinary Mission Work
Friday, September 14, 2012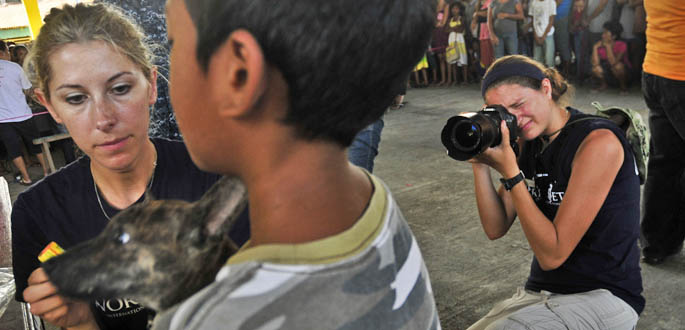 Camelia Montoy takes a photo of another volunteer helping a dog for Pacific Partnership 2012. Photo by Kristopher Radder
Camelia Montoy and Kristopher Radder will long remember the summer of 2012. Montoy, a senior photojournalism major, and Radder, a 2009 photojournalism and mass communication graduate, spent several months serving with public affairs teams that documented medical and veterinary care mission work in southeast Asia through Pacific Partnership.
Montoy, of Waynesboro, Pa., worked aboard the USNS Mercy serving with World Vets, one of many non-governmental organizations that partnered with the U.S. military for the veterinary care mission. A typical day involved photographing the work of a team of vets as they embarked at various island ports to conduct vaccinations, treatments, examinations and consultations, said Montoy.
"In the Philippines we treated dogs, cats, pigs, carabao (Filipino water buffalo), homing pigeons, chickens and monkeys ... I photographed life-changing and life-saving surgeries, and every day I learned something new about animal and human health and medicine," she said.
Radder, of Syracuse, N.Y., is a photo/video journalist for the Press & Sun Bulletin in Binghamton, N.Y. This was his third mission as a Project HOPE volunteer, having previously traveled to Guyana and Suriname in 2010 and Micronesia, Papau New Guinea, Timor Leste, Tonga and Vanuatu in 2011. Radder was a public affairs officer with the Pacific Partnership 2012 team. He photographed and blogged about the work of the HOPE medical volunteers throughout a four-month mission to the Philippines, Indonesia, Cambodia and Vietnam.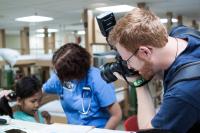 Kristopher Radder at work.
Photo by Camelia Montoy
"It was an amazing experience," said Radder, who photographed teams performing cleft palate surgeries for children and other life-changing and life-saving medical procedures.
Both Montoy and Radder credit the hands-on education at Point Park for preparing them for their missions.
"At Point Park, my eye is being trained for documentary and news work, so I have gained the skill set to photograph in the way the mission demanded," said Montoy.
"The training that I received at Point Park allowed me to ask the right questions, to form the story and to always follow my heart," Radder added. "We were covering real news, stories that people needed to hear, and the stories that were making a real impact in the countries we visited."
Montoy says connecting with the School of Communication faculty not only as professors, but also as mentors, has been one of her most rewarding experiences at Point Park. Radder adds, "The professors were some of the best tools I had, and they gave me the backbone I needed to survive as a photojournalist. Don't be afraid of criticism, embrace it."
Associate Professor Christopher Rolinson worked very closely with both photojournalists, serving as Montoy's mentor and Radder's former advisor.
"I encouraged Camelia and Kris to take advantage of this type of opportunity," said Rolinson. "They both took the skills they've developed and made this opportunity their own."
More photos from their mission
Text by Cheryl Valyo from the Fall 2012 issue of The Point

Photos by Camelia Montoy and Kristopher Radder