more news
Point Park students win feature award at National Broadcasting Society event in New York City
Wednesday, April 4, 2012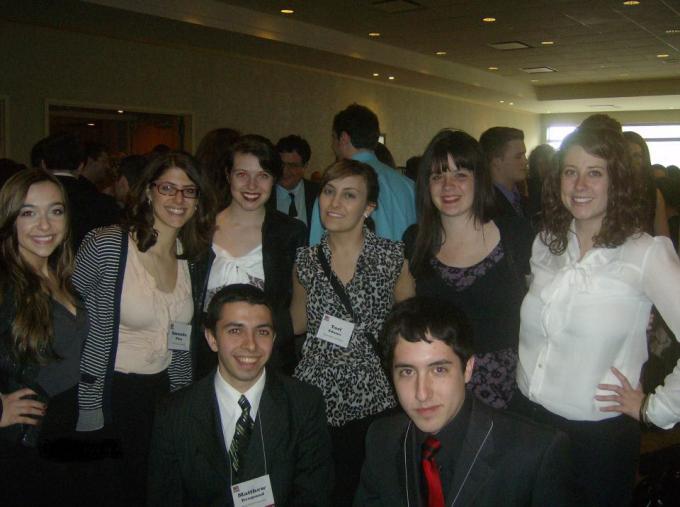 Point Park University students gather at the National Broadcasting Society conference in New York City. In the top row (left to right), Courtny Lee Jodon, Amanda King, Alicia Lyons, Tori Adams, Kelsie Metzgar and Micky Haney; and in the front row (left to right), Matthew Desmond and Silas Orteza.


Broadcasting student Matthew Desmond and cinema/digital arts student Silas Orteza won this year's "on-the-spot best feature story" award at the National Broadcasting Society's annual conference for students and professionals in New York City.
Desmond also was named the organization's newest student governor, a national honor, during the March event.
The National Broadcasting Society-Alpha Epsilon Rho, or NBS-AERho, is a student and professional society with over 120 chapters. The association provides enrichment opportunities for those studying to enter broadcasting and related fields.
The group's annual conference allows students to learn from and network with broadcast professionals from across the country.
Point Park sent eight students to this year's conference.
"The NBS event provides a great networking opportunity," says Anthony Moretti, associate professor and advisor to Point Park's student group. "Every one of our students met industry professionals and two walked away with a noteworthy award."
Desmond and Orteza won the "on-the-spot best feature story" award by shooting, writing and editing a video about one of the group's newest chapters during a single day of the conference.
"It was an honor to be there and participate," said Desmond, who in addition to being the group's new student governor, is president of the Point Park chapter.
Desmond was named NBS Student Member of the Year for 2011-2012.
Freshman Kelsie Metzgar, a Plum Borough, Pa. native who is double majoring in on-air reporting and broadcasting programming and production, said the conference provided her with important educational and networking opportunities.
Senior Micky Haney said she learned skills that will be useful in her job search.
"I learned so much from people in the profession, including specific advice about how to present myself and what to put on my demo reels.
"It was a great experience," said the Allentown, Pa. native.
Learn More
Membership in Point Park's National Broadcasting Society chapter is open to any student with an interest in electronic media, including broadcasting, multimedia, mass communication, radio, television, and/or film.
Learn more about undergraduate programs at Point Park University's School of Communication and Conservatory of Performing Arts.