more news
Point Park to host photographic arts lecture
Tuesday, September 27, 2011
An informal portfolio review will be held before artist Tim Fabian's discussion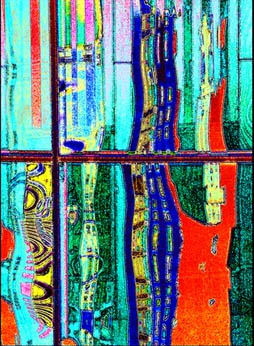 Tim Fabian's giclee print titled "plaza two h2o."
Copyright ©2007
Point Park University invites the public to a free Speaking Light lecture on the photographic arts, Friday, Sept. 30, at 6 p.m. in Thayer Hall's JVH Auditorium. The featured artist, Tim Fabian, will discuss the intersection of experimental, abstract and commercial photography and alternative 21st century processes.
Fabian is an adjunct assistant professor with Point Park University's School of Communication and an adjunct instructor with Pittsburgh Filmmakers.
Fabian has two books to his name, The Steps of Pittsburgh and The Bridges of Pittsburgh, and a third in development, Churches of Pittsburgh.
Before the lecture, students and members of the public are welcome to share their photography projects during an informal portfolio session outside of JVH from 5-6 p.m.
Speaking Light, the Point Park University School of Communication lectures on the photographic arts, begins the academic year with the September 30 event. All are held in the JVH Auditorium in Thayer Hall.
The series continues with Christin Boggs on Oct. 28, Filippo Tagliati on Nov. 18, John Holmgren on Jan. 27 and Tom Persinger on Feb. 24.
For more information, contact Assistant Professor Patrick Millard.