more news
Point Park University Professor Joins Fulbright Specialist Roster
Monday, April 24, 2017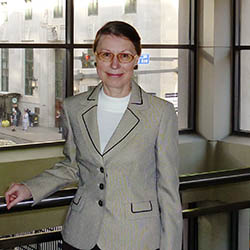 Dr. Tatyana Dumova, Ph.D., professor of multimedia in the School of Communication, has been accepted to join the Fulbright Specialist roster for a three-year tenure.
Fulbright Specialists conduct seminars and workshops at higher education institutions and serve as expert consultants on issues such as curriculum development, assessment, faculty training and instructional improvement in more than 150 countries. A Fulbright Specialist program grant lasts from two to six weeks.
Dumova says that she is very honored by her inclusion on the Fulbright Specialist Roster, and that her acceptance speaks highly of the quality of the School of Communication faculty.
Applicants for the Specialists Roster are selected on a competitive basis. After submitting their dossiers, each candidate is evaluated by a panel of three peer reviewers from the same academic or professional field. They assess applicants' professional qualifications, cross-cultural communication skills and adaptability, personal qualities, and the potential benefits to host institutions abroad and home institutions in the United States.
"I look forward to contributing to Point Park University's internationalization efforts and promoting its educational mission of excellence overseas," Dumova said.
Launched in 2001, the Fulbright Specialist initiative is a part of the flagship Fulbright Program established by the federal government to "increase mutual understanding between the people of the United States and the people of other countries by means of educational and cultural exchange" and is sponsored by the U.S. Department of State's Bureau of Educational and Cultural Affairs.
Learn More About Point Park University
Undergraduate Academics | Graduate Academics | Faculty | Visit Point Park University
More About: international, School of Communication, faculty