more news
Professor Presents on Student Engagement, Accreditation Challenges
Monday, October 9, 2017
School of Communication Professor Tatyana Dumova, Ph.D., took part in the annual gathering of the Pennsylvania Communication Association held September 29-30 at Duquesne University in Pittsburgh.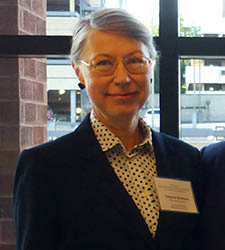 This year's conference theme "Disruption, Interruption, and Communication (Im)Possibilities" encouraged communication scholars and professionals to reflect on the dynamics of today's communication in various contexts and settings.
Dumova presented a paper titled "Disruptive Innovation: Badging for Student Engagement in a Blended Classroom," which focused on the challenges of successful hybrid instruction and using digital badges as an opportunity to motivate students.
Additionally, Dumova was part of a roundtable panel discussion on "The Disruption of Accreditation Changes and Our Responsiveness to Communication Possibilities," reflecting on her professional service activities, and chaired a research panel on "Contemporary Issues Involving Media and Society."
"Digital platforms and the transformations that they trigger in society bring both disruption and opportunities, said Dumova. "Communication researchers examine the theoretical, methodological, and empirical aspects of the changes. The underlying imperative is that digital technologies must serve people."
According to Dumova, involvement with professional communication associations such as PCA allows faculty members to learn new teaching techniques, share research ideas, and network with colleagues from around the state and beyond.
"It is inspirational and highly motivating," she said. "It also affords a venue to increase awareness within the larger community about the innovative academic programs at Point Park University."
At Point Park, Dumova teaches multimedia technology-related classes in face-to-face, online and hybrid modalities.
More About: School of Communication, multimedia, faculty, faculty research, conference