more news
Professor records war stories for Veteran Voices of Pittsburgh
Thursday, June 14, 2012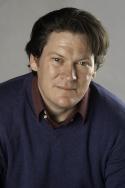 Christopher Rolinson, a School of Communication associate professor of photojournalism and photography, captures the stories and images of area veterans in his role on the multimedia team for Veteran Voices of Pittsburgh, a nonprofit education organization preserving the experiences of local veterans from all wars.
The Nonprofit partnered with Soldiers & Sailors Memorial Hall & Museum to film and archive the veterans' stories using a variety of media platforms including video, photographs and blogs.
In 1996, Rolinson discovered his passion for photography at Slippery Rock University after serving in the U.S. Army for five years in Alabama. In addition to teaching, he owns StartPoint Media, Inc., a freelance photography company, of which Veteran Voices of Pittsburgh is a project.
"I am privileged to honor these men and women who kept the country safe and allowed me the opportunity to become a photographer and teacher. Without these folks doing this job our world, most certainly, would be different today. I am simply trying to preserve the memory of their actions for my children and future grandchildren. Doing this project is a duty for me," Rolinson said.
Learn more about the project online at www.veteranvoicesofpittsburgh.com.
• Read the Pittsburgh Post-Gazette article: WWII oral history project preserves voices that should never be forgotten