more news
Professor Serves as International Grant Review Expert on Research Integrity
Monday, March 6, 2017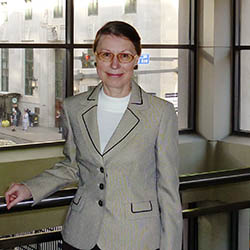 Tatyana Dumova, Ph.D., professor in the School of Communication, served as an international grant review expert for the Netherlands Organization for Health Research and Development (ZonMw) on issues of quality and integrity in scientific research.
ZonMw launched a five-year national program, Fostering Responsible Research Practices, aimed to invigorate scientific research in the Netherlands and beyond. As stated by a ZonMw official, the grant program attracted proposals from universities and research institutions in health, social sciences and the humanities.
The grant awards recognize ethical and sound research-related inquiries across academic disciplines and fields of knowledge.
"There is much that can be learned from this initiative: highlighting responsible research, preventing questionable research practices and research misconduct," Dumova said. "Point Park University, where the number of faculty and students engaged in research is growing, would benefit from strengthening its academic integrity community. A new office of research integrity can bring together all interested stakeholders and create a University code of conduct for research integrity."
According to Dumova, her prior experience as chair of the Point Park University Institutional Review Board committee was invaluable in her role as the reviewer for the program.
"Professional reviewing, whether it's for a grant program, scholarly journal or accreditation review team, is a form of professional development for faculty that benefits the larger community and promotes your institution," Dumova explained.
Learn More
Meet the faculty and learn more about the undergraduate and graduate programs offered through Point Park University's School of Communication.
More About: School of Communication, faculty, international, Ph.D. in community engagement, research