more news
Public Relations and Advertising Alumna Gina Pennline Works for Girl Scouts
Monday, February 17, 2014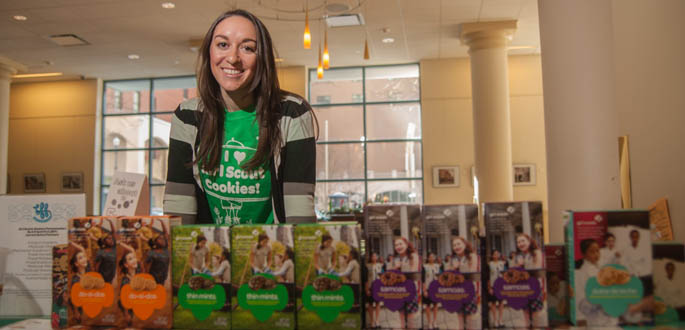 Meet Gina Pennline

Job title and employer: Assistant to vice president and program department, Girl Scouts Western Pennsylvania
Major and degree earned: B.A. in public relations and advertising, 2010
Hometown: Audubon, Pa.
Now living in: Pittsburgh, Pa.
College activities: AdFed/PRSSA, WPPJ
Hobbies/interests: Reading, watching movies, social media, trying different foods and going to Pirates games.
Tell us what brought you to campus on Feb. 7.
Girl Scouts Western Pennsylvania was celebrating National Cookie Day by selling cookies at 10 locations in Downtown Pittsburgh. My co-workers and I were representing GSWPA and had two Girl Scouts from the Be a Friend First program selling cookies with us. All proceeds from the day went to the program that gives girls valuable skills to develop healthy relationships and prevent bullying behavior in their schools and communities.
What was it like returning to campus as an alumna representing GSWPA?
Being back on campus was great; it brought back so many fun memories! It was nice to see all of the improvements around campus, so much has been added since I graduated. It was fun to see the two Girl Scouts so excited to be on campus, and I was able to answer their questions and tell them stories about living on campus.
Why did you choose Point Park for your major?
I liked what I saw from the public relations and advertising program and thought it would be a good fit for me. The smaller class sizes and intimate feeling at Point Park was something I was interested in. I also loved being in Downtown Pittsburgh, and enjoyed being able to jump on a quick bus ride to be in Oakland or South Side.
Please list any internships you had.
I interned at Girl Scouts Western Pennsylvania with the communications department. After graduating, I kept in touch with several people and a year later when I saw a job opening I applied!
I also interned at Branding Brand writing blogs about fashion and skin care. Lastly, I did my required practicum with the development office at Point Park and learned a lot about grant writing and assisting with large events.
What are some of your key job responsibilities?
My key job responsibilities are within the program department, planning and implementing events for Girl Scouts in grades K-12. I write content for a girl e-newsletter, collaborate with the communications department to create S'more Magazine (a publication for girls) and help manage social media accounts. I also design marketing materials such as flyers, brochures, invitations, patches and more to advertise Girl Scout programs to external and internal audiences. I am always learning new things and continue to improve my skills at Girl Scouts.
What advice do you have for a prospective college student?
Take any class that interests you, even if it doesn't have to do with your major. One of my favorite classes I took was a film class. It was really interesting and also allowed me to interact with students that weren't regularly in my classes.
Also, believe your professors when they talk about networking - it really is one of the most important things you should do as a student! Building relationships and keeping in touch with people may help you get your foot in the door somewhere in the future.
More About: WPPJ, success story, AdFed/PRSSA, public relations and advertising, internships, alumni