more news
Pulitzer Prize-Winning Journalists Discuss Investigative Series with Students
Friday, April 25, 2014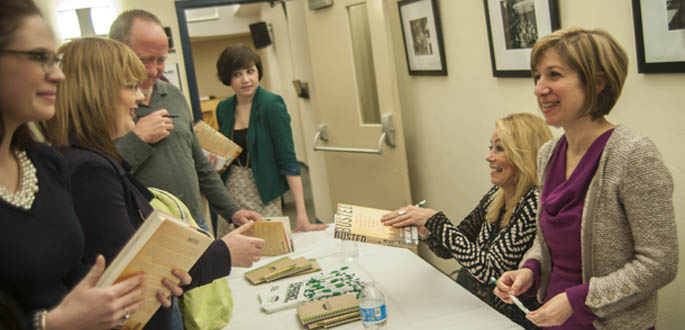 (Far right) Pulitzer Prize-winning journalists Barbara Laker and Wendy Ruderman sign copies of their new book 'Busted.'
Pulitzer Prize-winning journalists Barbara Laker and Wendy Ruderman - both Philadelphia Daily News reporters - came to campus to tell the story about their 10-month investigative reporting series Tainted Justice. Held during the spring semester for School of Communication students, the event was sponsored by the Point Park News Service and the Press Club of Western Pennsylvania.
Photo Gallery
---
Related Links
School of Communication
Schedule a Campus Visit
Apply Online Free
Request Information
Tainted Justice, the 2010 Pulitzer-winning investigative series, chronicles one of the biggest police corruption scandals in Philadelphia - the subject of Laker's and Ruderman's new book, "Busted: A Tale of Corruption and Betrayal in the City of Brotherly Love."
"This is a true story about drugs, power and abuse involving a rogue narcotics squad, a confidential informant and two veteran journalists whose reporting drove a full-scale FBI probe. It rocked the city and earned a Pulitzer Prize," said Andrew Conte, director of the Point Park News Service.
Sitting on stage in the JVH auditorium, Laker and Ruderman shared colorful details about the obstacles they encountered while working on this series. They shared examples of when they went into dangerous neighborhoods to track down a source, why the police chased after them and even an instance when Laker was physically assaulted during an interview.
"A lot of reporters view reporting as a calling, so we don't think about it as a paycheck - for better or for worse it's our drug of choice - it can be a curse and a blessing, but for me going after a story is my obsession," said Ruderman.
Maggie McCauley, a freshman double majoring in broadcasting reporting and public relations and advertising, said the key message she took away from the event was that great journalism is driven by passion and bravery.
"Barbara and Wendy's dedication to the series is amazing because they were working in uncomfortable situations, dealing with negative influences and it never stopped them," McCauley said. "They are the kind of journalist that I hope to be someday."