more news
Rebecca Painter Gains Hands-On Experience Interning for PJR Photography and Studio, LLC
Wednesday, June 29, 2016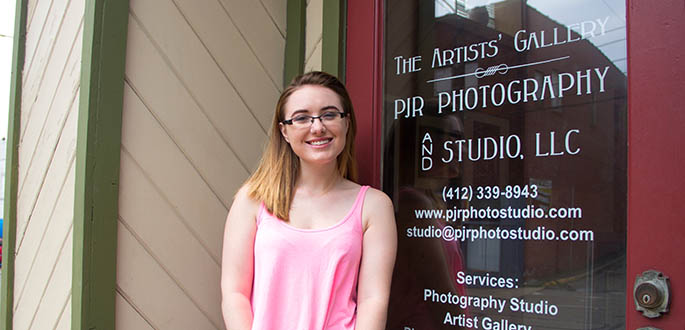 Meet Rebecca Painter
Internship: Photography Intern, PJR Photography and Studio, LLC and the Artists' Gallery
Major: Photography
Graduating: May 2017
Hometown: Strasburg, Va./Orlando, Fla.
High school: Strasburg High School
College activities: John P. Harris Society
Hobbies/interests: Music, writing poetry, exploring the city, psychology, creating new and interesting photographs and I'm a Pittsburgh Penguins fan
Scholarship from Point Park: Presidential
Twitter: @beccamarie014
Favorite quote: "People need other people." - Jaime Tworkowski
Tell us about your key responsibilities at PJR Photography.
I am responsible for writing press releases and event announcements for each month's photo exhibition. In addition, I work closely with the exhibiting artists to write their artist statements that are used for the show and their collection of work. Once I put all of the statements together and write the press releases, I send it to various online platforms and publications.
What has surprised you the most as an intern for PJR Photography?
I'm really surprised by how much work goes into putting on a gallery show. On top of coming up with the themes and lining up the artists, you have to work very closely with the artists to understand their vision. It's a lot of work to keep up with publication deadlines and to make sure you are marketing the show adequately.
How will you apply what you learned to your upcoming year at Point Park?
This upcoming year at Point Park will mainly consist of working on my senior thesis that concludes with an individual and a group show. This internship not only has given me a good place for a solo show, but the work I have put into these exhibitions has prepared me for the work that will be expected of me this coming year.
What do you like most about Point Park's photography program?
The thing I love the most about Point Park's photography program is that we are free to be as creative as we want. We have the opportunity to learn every type of medium and its history. We're taught the best way to get our message across in our photographs, which I really struggled with initially. This is the best program I could have chosen for my education.
What are your career goals?
I hope to attend graduate school for counseling, and eventually combine my love for photography and interest in psychology to become an art therapist.
Photo by Shayna Mendez, senior photojournalism major
More About: photography, internships, School of Communication, scholarships