more news
Rock-A-Thon Provides Hands-On Opportunities for WPPJ Students
Tuesday, November 25, 2014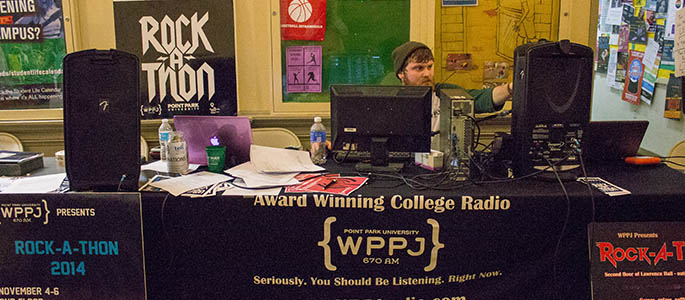 Pictured above: DJ Zack Durkin at WPPJ's Rock-A-Thon in Lawrence Hall.

Point Park student DJs hosted WPPJ's 34th annual Rock-A-Thon - 67 hours of non-stop radio broadcasting outside of the Point Cafe in Lawrence Hall, Nov. 4-6.
Photo Gallery
---
Learn More
School of Communication
Student Media
Request Information
"Since we broadcast on 670 AM, we take our call numbers and play music for 67 hours to raise money for a local non-profit organization," explained Nathan Keenan, general manager of the student-run radio station. "I take so much pride in the work that the WPPJ staff members do for our station. All of the great work we've done enhances our resumes."
Rock-A-Thon featured a variety of events: dance contests, trivia games, raffles, pie a community facilitator and a competition called the Last DJ Standing. Broadcast reporting major Aubrey Henken earned the winning title at this year's competition.
All proceeds from the events, games and contests benefited The Early Learning Institute, a non-profit organization that provides therapeutic and educational services to children in Western Pennsylvania. This year's Rock-A-Thon raised $500 for The Early Learning Institute.
Point Park students from a variety of majors can join WPPJ as a co-curricular activity. The station also serves as a training facility for students who wish to pursue a career in broadcasting.
The 2014-15 WPPJ staff includes:
Nathan Keenan, general manager, broadcast production and media management major, public relations and advertising minor
Zack Durkin, assistant station manager, broadcast reporting major
Mary Jo Jennings, program director, broadcast reporting major
Melanie Vadney, promotions director, mass communications major, public relations and advertising minor
Photos by Victoria A. Mikula, sophomore photojournalism major
More About: WPPJ, broadcast reporting, photojournalism, mass communication, public relations and advertising