more news
School of Communication Alumna Authors 'Working Stiffs'
Thursday, May 24, 2012
Lucy Leitner, a 2010 graduate of the journalism and mass communication graduate program, authored the new horror/comedy novel, Working Stiffs.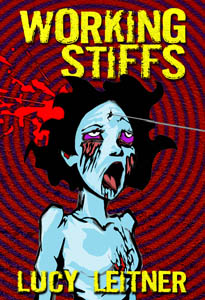 The book is described as a "hilarious, action-packed tale of survival in the fast-paced world of pharmaceuticals."
Leitner credits her recent success to the graduate program at Point Park.
"I wanted to be a journalist and wound up writing fiction," she said. "The professors at Point Park are fantastic and they want you to succeed ... they let me write about UFO's and zombies ... and with the right amount of imagination and hard work, you can mold the program to suit you."
While at Point Park, Leitner explored opportunities outside of the classroom and worked as a stringer for the Pittsburgh Tribune-Review and an intern at the Pittsburgh City Paper.
Leitner is employed by JP Enterprises in Lawrence, Pa., and writes for the blog, Hollyburgh.
Working Stiffs, published by Necro Publications in April, is available on Amazon.
Learn more
Learn more about the graduate programs in the School of Communication.