more news
School of Communication Hosts High School Media Day For Prospective Students
Thursday, November 14, 2013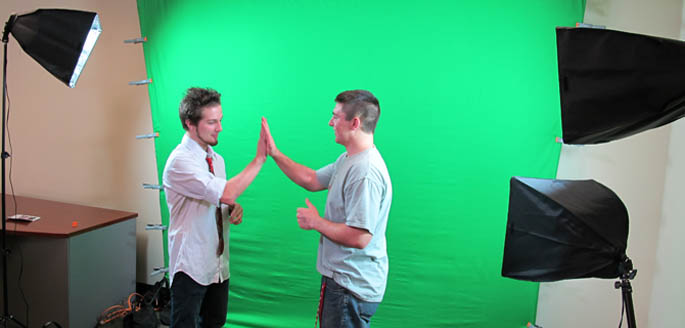 Point Park University welcomed more than 250 high school students and their teachers to the School of Communication's fall 2013 High School Media Day, held Nov. 1 on campus.
---
Related links
School of Communication
High School Programs
"This is one of the biggest High School Media Days that we've ever had," said Heather Starr Fiedler, Ph.D., associate professor of multimedia and chair of faculty, as she welcomed the students. "I'm really excited because we asked your teachers to pick workshop topics that are interesting and relevant to you. This year's theme is 'Teacher's Choice.'"
Jim Thomas, associate vice president for academic and student affairs, also shared opening remarks with the prospective students.
"We are thrilled to have you here on campus. Point Park is one of the most dynamic urban universities in the country and we're so excited you'll be a part of our campus for the day," he said.
Broadcasting, multimedia/web, public relations and advertising, photojournalism, print journalism, law/ethics and tips for landing that first job or internship were among the session topics discussed with students.
"It's nice to be on Point Park's campus to see what it looks like and experience the atmosphere in Downtown Pittsburgh," said Abby Pielher, a student at North Allegheny Senior High School. "Attending High School Media Day was a great way to be introduced to a field I'm interested in."
Josie McKenzie, from Meyersdale Area High School, chose to return to Point Park's media day for a second time.
"I'm the editor-in-chief of our newspaper and I'm really interested in writing," she said. "I got a lot of useful information when I came two years ago and wanted to come back to learn more."
KDKA TV's Jon Burnett, a weekend meteorologist and on-air personality, wrapped up media day in the Lawrence Hall Ballroom.
"It's a very different world that you're going into than the one I did when I was in college, but it's still a world that's craving talent on and off camera, behind the scenes, in programming, promotions, marketing or sales," said Burnett. "But you're in the right place if you're ready to go to college. Four of my colleagues at the station, Bob Pompeani, Ross Guidotti, Dr. Maria Simbra and Olga George are Point Park alumni, and I think that speaks very highly of Point Park."
The next High School Media Day will be held during the spring 2014 semester.
More About: multimedia, broadcast reporting, journalism, photojournalism, public relations and advertising, high school media day, alumni