more news
School of Communication Internship Fair Brings Employers to Point Park's Campus
Thursday, April 17, 2014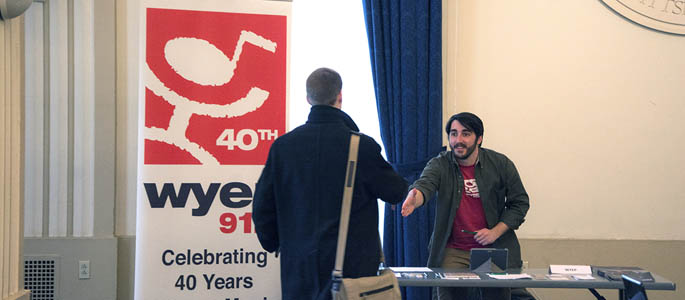 A student meets an employer from WYEP FM at the annual Internship Fair in the Lawrence Hall Ballroom.

Point Park's School of Communication welcomed employers from throughout the region to its annual Internship Fair, held March 17 in the Lawrence Hall Ballroom.
Photo Gallery
---
Related Links
School of Communication
Internships
Apply Online Free
Request Information
From WYEP FM and WAMO FM to Make-A-Wish Foundation and Habitat for Humanity of Greater Pittsburgh, students had the opportunity to network with a wide range of local employers in the industry.
"Having an internship during your college career is very important because it helps you figure out who you are, what you're interested in and develop your skills," said Derek Morris, volunteer coordinator at Habitat for Humanity. "We're always looking for an intern who has strong communication and organization skills and is passionate about their work."
Sophomore photojournalism major Lauren Finkel is seeking a summer internship.
"This is the first time I've been to an internship fair and it's been a great way to meet employers. There's always a fear of rejection, but if you don't initially try to get an internship, you might just miss out on a great opportunity," said Finkel.
Elizabeth Hillard, promotions and marketing coordinator at WAMO, shared her advice to students seeking an internship.
"Your resume is a reflection of your work, so make sure it's polished before you send it to a prospective employer," said Hillard. "Always be on time and prepare a list of questions to ask during the interview. I always tell my interns to treat their internship as if it was a real job because you never know where it could lead you."
Communications Coordinator at Make-A-Wish and a Point Park alumna Christina Praskovich (COM '08) encourages students to dress professionally and bring a portfolio of their work to an interview.
Also seeking interns at the fair were employers from the Carnegie Science Center, Pittsburgh City Planning, Talent Group, Smart Futures, March of Dimes, KQV AM, Clear Channel Communications, Landmark Event Staffing, Global Links and the Cystic Fibrosis Foundation.
"Most jobs in my field of study require that you have agency experience, so I wanted to land an internship before graduating," said Megan Ianuzzi, a senior public relations and advertising major who is currently an intern at Tailored Marketing Inc. "Having an internship in general helps you learn what you want to do in your career and is a great way to network with industry professionals."
Photos by Christopher Squier, a senior photojournalism major