more news
School of Communication presents photographic arts lecture March 30
Monday, March 26, 2012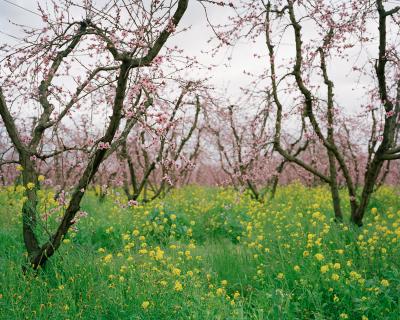 Point Park University's School of Communication welcomes the public to its next lecture on the photographic arts on Fri., March 30, at 6 p.m. in Thayer Hall's JVH Auditorium. The Speaking Light event will feature artist and photographer Stephen Chalmers.
Chalmers will challenge viewers with his photographic series "Unmarked," which documents the locations where serial killers' victims were found. At the lecture Chalmers will show works from the series and discuss how he and others located the sites using Freedom of Information Act requests, police records and newspaper articles.
"Stephen Chalmers' photographs of sites where serial killers dumped their victims…taps into our society's fascination with what murder looks like," says Natasha Egan, associate director of the Museum of Contemporary Photography in Chicago, which owns several of Chalmers' works.
"Obscured by the passage of time and often invoking the natural beauty surrounding them-wilderness areas being ideal dumping places-Chalmers' pictures challenge photography's ability to expose the spectral history of a location and the knowledge of its viewers," Egan added.
Chalmers is a professor of photography at Youngstown State University in Youngstown, Ohio. He has served as visiting artist at several colleges and universities and has taught workshops in alternative photographic processes and digital imaging. He has contributed to five books and been in group and solo exhibitions in the United States, Australia, Ireland, British Columbia, Thailand, England, South Africa and China.
Chalmers earned his M.F.A. in cinema and photography from Southern Illinois University. He was the northwest regional chair for the Society for Photographic Education for two terms and professor of photography and digital media in the state of Washington for eight years.
He has also worked as a treatment counselor to emotionally disturbed children, as an emergency medical technician, and as a photography teacher to young gang members.
Works by Chalmers are in several collections, including the Museum of Contemporary Photography, Light Work, Polaroid, and the Getty Research Institute. His work has been featured in the Picture Show website of National Public Radio, in the Huffington Post and in the Daily Mail (UK).
Point Park University's Speaking Light series will end its second year of lectures with the March 30 event.
Learn more
For information about the Speaking Light series, contact Visiting Assistant Professor Stephen Grebinski. Learn more about Point Park University's photography and photojournalism programs.
Photo by Stephen Chalmers above is titled: Paul Allen, Sigurd Beierman, Sam Bonafide (aka Joe Carriveau), Edward Martin Cupp, Charles Fleming, John Haluka, Albert Hayes, Clarence Hocking, James Howard, William Emery Kamp, John Jackson, Warren Kelley, Joseph Maczak, Raymond Muchache, Elbert T. Riley, Melford Sample, Mark Beverly Shields, Jonah Smallwood, Donald Smith, Lloyd Wallace Wenzel, Kenneth Whitacre, Four John Does