more news
School of Communication presents Shaun Slifer at Speaking Light lecture Dec. 6
Tuesday, December 4, 2012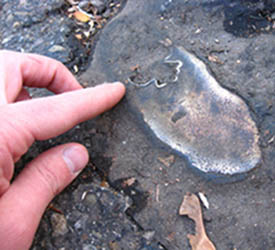 "Between Dog and Wolf," by Shaun Slifer
Point Park University's School of Communication welcomes the public to its next Speaking Light lecture on the photographic arts on Thursday, Dec. 6 at 6 p.m. in the JVH Auditorium in Thayer Hall. The event will feature local artist Shaun Slifer.
Slifer is currently working on projects that "explore obscured and forgotten histories - those of humans and of other animals - through memorial practices." His work has been exhibited nationally in a wide variety of nonprofit exhibitions, galleries, community centers, alongside interstate highways and under bridges. Slifer earned a B.F.A. in sculpture from Watkins College of Art, Design and Film in Nashville, Tenn. He is an active member of the Justseeds Artists' Cooperative.
The Speaking Light series continues on Friday, Jan. 25, 2013. For more information on the series as lectures are scheduled, visit the School of Communication news page.
Learn more
Learn more about Point Park University's photography and photojournalism programs.