more news
Silk Road Exhibit Provides Practical Experience for Photography Students
Monday, May 6, 2013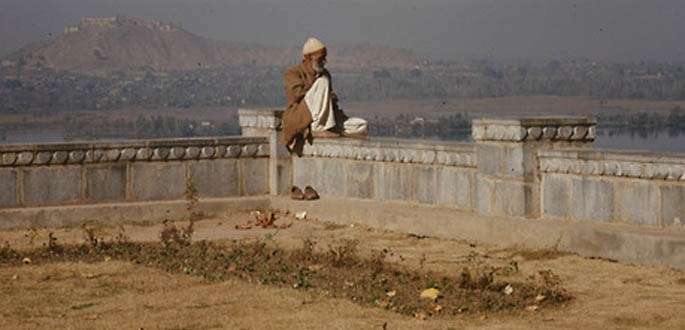 The Silk Road photography exhibit is on display in the Lawrence Hall Gallery through Aug. 9. The Lawrence Hall Gallery is open to the public Monday through Saturday, 9 a.m. to 6 p.m.

School of Communication students had the unique opportunity to gain hands-on experience and training related to their major during the summer of 2012, fall 2012 and spring 2013. The group of four students worked with Chris Rolinson, associate professor of photography and photojournalism, to research, select, edit and prepare a collection of Kodak slides - historic photos taken in a part of the world where there is currently so much conflict - now on display in the University's Lawrence Hall Gallery.
Silk Road, a photo exhibition of images taken along the Silk Road in Afghanistan, Pakistan, Nepal and India, opened April 25 and runs through Aug. 9.
"Working on this exhibit has provided a lot of opportunities for students to get practical experience using the equipment, and also thinking about images and work that aren't their own, and how that applies to the greater public," said Rolinson.
Rolinson recently received the collection of more than 1,200 slides from a friend, who purchased them at an estate sale in 1972. The photos were taken in the late 1960s and early 1970s by a couple from Erie, Pa. - Albin and Virginia Curtze - who traveled extensively throughout the world. The lawyer and his wife had only shared these images with members in their community.
"The one thing I stressed to the students the most is the historical context of this project, because at that point in time was a moment of relative peace in that region," said Rolinson. "It's a nice snapshot to see what an area looked like compared to what it is right now. The element of time has an effect on what images mean."
Allie Wynands, a senior photojournalism major, served as the project's researcher.
"I took up this project as part of my practicum, and I fell in love with their story," she said. "The education and the guidance that I received from professors has really aided in the skills that I picked up in order to do the research and investigating that I did."
Freshman photography major and production assistant Tyrone Smith said he feels confident that he can one day create images just as good as the ones he's been working with.
"In order to be better with photography, the best way to get inspired is to look at other people's work. Looking at these pictures and seeing that they shot them with 35mm cameras, which we use in our photography program, is very inspiring and we can make pictures just as good," he remarked.
Added Rolinson, "We have photos of the Buddhas of Bamiyan - statues that were destroyed the week before Sept. 11 by the Taliban - so that's at least one example that I can say for certainty that we preserved a little bit of history."
In the news
Photos
Video