more news
Speaking Light Lecture Features Photographer Andy Bloxham
Monday, January 21, 2013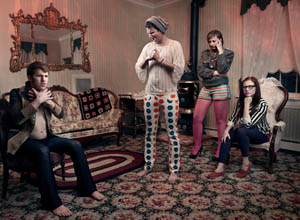 "Wait Your Turn," by Andy Bloxham
The School of Communication's Speaking Light series continues on Saturday, Feb. 9 with photographer Andy Bloxham. The photographic lecture, "Fictional Photography," will be held at 4 p.m. in Thayer Hall's JVH Auditorium. The public is invited to attend.
Bloxham's work "centers on fictitious situations and events, told through the slight hint of a smirking camera."
Bloxham earned his M.F.A. in photography and a B.A. in psychology from Louisiana Tech University.
Check the School of Communication news page for information on upcoming lectures as they are scheduled.
Learn more
For information about the Speaking Light series, contact Visiting Assistant Professor Stephen Grebinski. Learn more about Point Park's photography and photojournalism program.