more news
Speaking Light Lecture Features Photographer Chloe Isadora Reison
Wednesday, March 13, 2013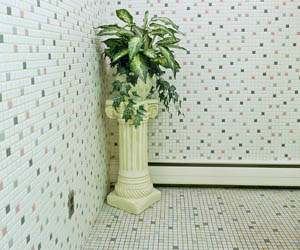 "Ladies Room," by Chloe Isadora Reison
The School of Communication's Speaking Light series continues Friday, March 29 with photographer Chloe Isadora Reison. The photographic lecture, "In Passing," will be held at 6 p.m. in the JVH Auditorium in Thayer Hall. The public is invited to attend.
"The lecture will focus on how I, as an artist, use different media to speak to the idea of transience," said Reison. "Transience, for me, is largely represented by inanimate objects and interior spaces: things that we see or use in passing, spaces we move through and between."
Reison earned her M.F.A. in sculpture and photography from the University of Pennsylvania and a B.S. in studio art from Skidmore College. She currently resides in Philadelphia, Pa., working as a photography technician at the University of Pennsylvania.
Check the School of Communication news page for information on upcoming lectures as they are scheduled.
Learn more
For information about the Speaking Light series, contact Visiting Assistant Professor Stephen Grebinski. Learn more about Point Park's photography and photojournalism program.