more news
Sree Sreenivasan joins Pittsburgh social media leaders to discuss future of digital innovation
Monday, April 27, 2015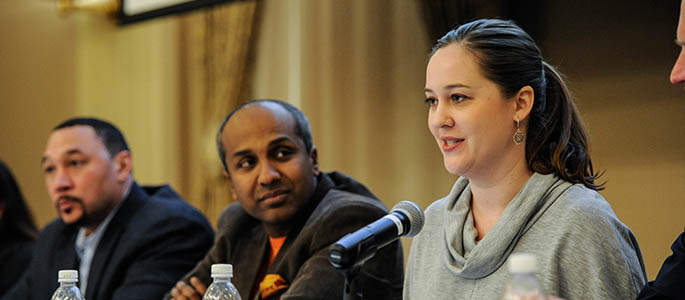 Charlie Batch, Sree Sreenivasan and Jessica Warchall discuss social media strategy.
Sree Sreenivasan, chief digital officer at the Metropolitan Museum of Art, teamed up with local social media leaders during the spring semester to discuss digital and social strategies with the Point Park University community. Sponsored by the Point Park News Service, the Press Club of Western Pennsylvania and Trib Total Media, #Burgh @Point Park was live streamed and archived on Point Park's YouTube channel.
Using his iPhone, Sreenivasan gave an engaging presentation detailing the latest trends in digital, mobile, social, apps, email and more. Sreenivasan shared the following tips and lessons:
Photo Gallery
---
Learn More
Point Park News Service
Point Park Academics
Request Information
Apply Online
Always be charging your phone.
Always be connecting with people when you don't need them.
Always be collecting information and photos.
You've got to get the word out. There's no point in doing something unless you tell people about it.
Be smart about social media. You want engaged followers.
The dirty secret of social media: almost everyone will miss everything you do on social media. Until you make a mistake.
Everyone wants a peek behind the scenes.
Expertise matters.
You have to build your own audience and help them to understand, participate and share.
We're all in this together.
Maggie McCauley, a sophomore majoring in broadcast reporting and public relations and advertising, said she is grateful that she has these types of opportunities to network with industry professionals on campus.

"I'm so lucky that Point Park provides opportunities to gain information about current and future trends in media, such as social media. It's great to connect with professionals who we aspire to be like one day," said McCauley.
Following his presentation, Sreenivasan joined Pittsburgh-area social media leaders to discuss social media strategy. The panelists included:
M.A. alumna Patty Swisher, vice president of corporate communication at IKM Incorporated Architects, located within walking distance to campus, attended the event and published a recap on Storify.

"The panelists come from different backgrounds, have different objectives and all have found some measure of success using this tool or medium to promote their key messages to their target audiences. The event overall was entertaining, informative and educational," said Swisher.

Sreenivasan wrapped up the event by sharing his thoughts on the big trends in 2015: podcasts, email newsletters and blogs.

"No matter what, your content should be helpful, useful, timely, informative, relevant, practical, actionable, brief, entertaining and fun," he said.
Archived Video: #Burgh @Point Park
More About: social media concentration, social media, Point Park News Service, M.A. in communication technology, student workshop, Downtown Pittsburgh