more news
Steve Hallock Authors 'Justice Delayed'
Friday, July 24, 2015
A Pittsburgh Post-Gazette article published in 2012 - "Bridgewater councilman arrested in 1979 killing of woman in Monaca" - inspired Steve Hallock, Ph.D., associate professor of journalism and director of the School of Communication's graduate programs, to write Justice Delayed: The Catherine Janet Walsh Story.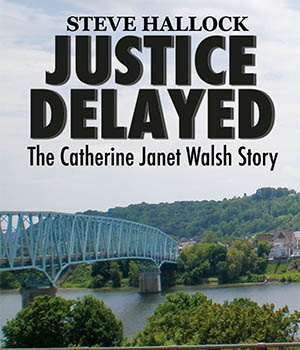 "As I read the background of the case, it intrigued me more and more. The story reported that the original responding officer, Andrew Gall (A&S '07), was the lead detective on the case all of those years," explained Hallock. "I thought that a police officer staying with the case all those years in itself was quite the story - but it became more intriguing as I investigated and learned that at the time of the murder, Gall, state police and county detectives had five suspects, each with opportunity and a few with motive."
Using the entire case file, original newspaper clippings, court transcripts, magazine articles and research journals, Hallock drew upon his more than 30 years of newspaper experience - combining interviewing techniques, news judgment, reporting and writing skills - to complete the research and writing of Justice Delayed.
"This story emerged from cold darkness more than 30 years after the murder, thanks to new light shone on long-stored evidence through the use of DNA forensics. Officer Gall, now a detective with the Beaver County District Attorney's Office, in 2012 arrested one of the original suspects. This story is the true saga of crime, its investigation and trial, and of the effects of that murder on a small, close-knit community of friends, kin, neighbors - and others in Monaca," said Hallock.

In addition to Justice Delayed, Hallock has authored The Press March to War, Reporters Who Made History: Great American Journalists on the Issues and Crises of the Late Twentieth Century and Editorial and Opinion: The Dwindling Marketplace of Ideas in Today's News.


More About: journalism, faculty