more news
Student Creates PR Campaign for Nonprofit; Credits M.A. Program, Faculty Support
Tuesday, March 17, 2015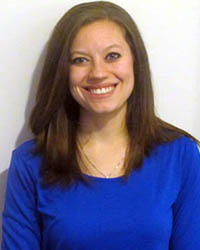 Carol Burns was thrilled to learn that Point Park University offered a graduate program focused on public relations and nonprofits.
"I chose Point Park because the M.A. in journalism and mass communication program had the most appealing classes related to my interests in PR and nonprofits," said Burns, who earned her degree in December 2014. "Going to school in Downtown Pittsburgh was very different for me - I went to college on a small and rural campus - but being a part of the culture and city life is part of Point Park's appeal."
As part of the M.A. degree requirements, Burns created a public relations campaign project to help raise awareness for the Western Pennsylvania Conservancy's program for Gardens and Greenspaces.
Burns worked with Professor Bob O'Gara and communications professionals from WPC to identify any issues with the Gardens and Greenspace program and the program's goals.

"Bob O'Gara was a major part of this project. He has so many years of experience in this field, and he was able to help me get in contact with the right people to bring my ideas to life," said Burns.
Additionally, Burns credits instructors Camille Downing and Craig Irons for their support during her academic experience.
At the end of the fall 2014 semester, Burns presented an action plan for the WPC that focused on social media, event planning and media relations to WPC, Bob O'Gara and faculty from the School of Communication.
"My favorite memory as a graduate student was presenting my public relations campaign. I spent two semesters creating the plan, so I was extremely nervous to present my ideas to the WPC," said Burns. "My presentation was successful, and it was extremely gratifying to know that my hard work paid off and my ideas were accepted and appreciated."
Learn more: Western Pennsylvania Conservancy public relations plan by Carol Burns.
More About: success story, Downtown Pittsburgh, M.A. in journalism and mass communication, M.A. in media communication/pr and advertising