more news
Student Majoring in Journalism and Multimedia Interning for Cox Media Group Ohio
Monday, July 16, 2012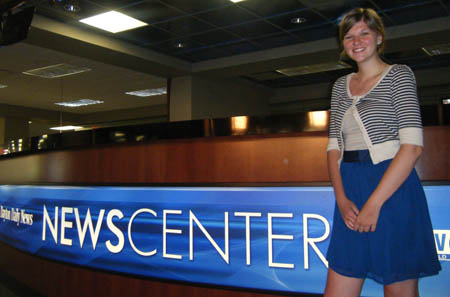 Meet Kalea Hall
Major: Double majoring in journalism and multimedia
Expected graduation: May 2013
Hometown: Struthers, Ohio
Internship: Breaking news intern for Cox Media Group Ohio, which includes the Dayton Daily News and WHIO-TV, Dayton, Ohio
Award received: Part of Cox Media team named 'Innovator of the Year'
Please provide an overview of your internship.
My duties as a breaking news intern begin with listening for news on police scanners, and following tips through to see if a story exists. If a story does exist, I write online briefs for the website. I also help to pull police reports and follow up on any stories that may need more attention. During the recent storms that struck Ohio, part of my job was to monitor our social media sites for tips and pictures from our viewers. Eventually, I will get to shadow photographers and reporters in the field.
What's your favorite part of your internship?
I honestly just love being in the newsroom. I love hearing the scanners and being surrounded by both professional print and television journalists. It's been so great learning more about how a news business operates. Working the breaking news desk is especially intriguing because we work for all platforms: print, television and radio. It's exciting to see everyone working together to inform the public on important issues.
Why did you choose to attend Point Park?
I chose Point Park for multiple reasons: the city, journalism program, small class sizes and the one-on-one experience with professors. I knew I was going to be a student at Point Park from the moment I walked on campus. To date, Point Park has not let me down. The amount of growth I've made since freshman year would not have occurred at any other school, I'm sure of that.
Why is your major a good fit for you?
Since I was little, I wanted to be a writer. In high school I enjoyed writing and telling stories as a yearbook staff member. From there, I grew to love writing the news for the school paper. I knew Point Park's journalism program was the perfect fit for my professional development.
Anything else you'd like to add?
Throughout college I have grown because I did not hold anything back. I acquired new skills writing for the school newspaper, learned more about the criminal justice system when I worked for the Innocence Institute, and gained professional networking skills as a member of the Society of Professional Journalists and the Green and Gold Society. I recognized that having an internship was a necessity in becoming a professional journalist, so I got one. Don't be afraid to take chances. I worked hard to chase my dream, and now I'm living it.
Photo by Teesha McClam