more news
Students and Faculty Travel to Germany for Sixth Annual Media Trip
Thursday, May 9, 2013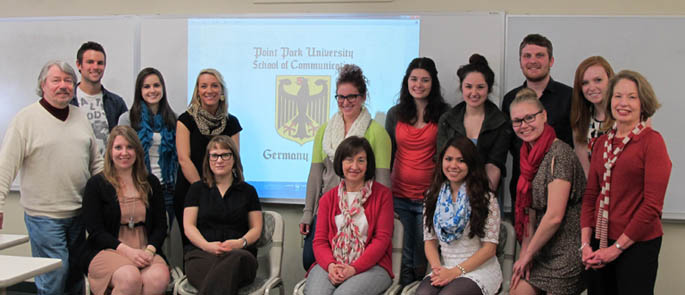 Point Park University students and faculty gather for a group photo during the International Media Class.
The School of Communication's International Media Class will visit media outlets in Germany to meet and hear from real-world industry professionals, May 12-23. Faculty members Helen Fallon, David Fabilli and Aimee-Marie Dorsten, Ph.D., along with retired faculty member Jan Getz, will travel with the group of 11 students.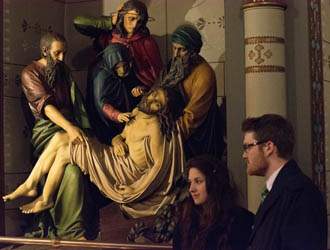 Students Katie Pflug and Zack Durkin stand next to a statue
during a tour of St. Anthony's Chapel in Troy Hill.

"To prepare for the trip, we had several guest speakers to address different aspects of German culture, history and media outlook," said Marina Weis, a senior double majoring in journalism and multimedia. "We also were able to experience some of the culture right here in Pittsburgh when we took field trips to historical German-American entities."
Students will examine Germany's print journalism, digital media, broadcasting, advertising, public relations, photography and photojournalism professions and document their experiences with daily blogs as they tour Berlin, Munich and Salzburg.
"The International Media Class has prepared me for this trip by exposing me to all of the aspects of culture and media that will be prevalent in Germany," said Alexa Blanchard, a junior multimedia major. "I hope to get a grasp of what it's like to work in a non-American media environment, where the unspoken rules of German culture are vastly different."
The group will also visit historical and cultural sites, including the Dachau Concentration Camp and Neuschwanstein Castle.
"I hope to broaden my view of the world and grow as a cultured, professional journalist. With unbeatable hands-on knowledge and experience of another country's media landscape, I will become a more marketable potential employee and confident journalist," Weis said.
The International Media class is offered during the spring semester and combines classroom preparation and study of media in a designated country. Previous trips took students and faculty to Italy, Prague, Ireland, Toronto and London.
Social Media and Links
Watch for updates on the trip on Twitter, Facebook and on the group's website.
Photo by photojournalism student Connor Mulvaney