more news
Students capture beauty of Pennsylvania outdoors in nature photography course
Monday, February 20, 2012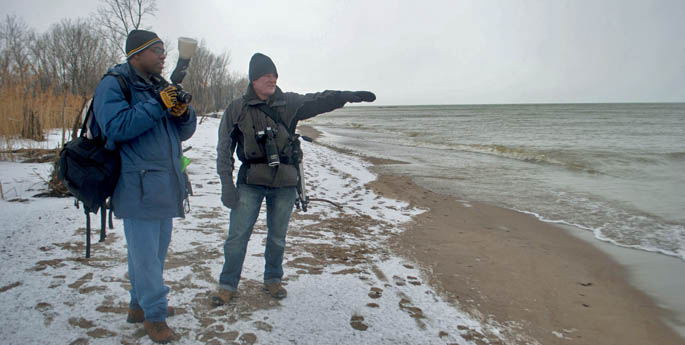 Associate Professor Christopher Rolinson, right, and photojournalism major Joseph Smith discuss options for photographing Lake Erie on a field trip to Presque Isle State Park.
Nature photography field trip destinations
Point State Park
Presque Isle State Park
Frankfort Mineral Springs
Trough Creek State Park
McConnells Mill State Park
Phipps Conservatory
Ohiopyle State Park
Abandoned Pa. Turnpike Site
Student blogs and photos
Learning how to capture moving water and to shoot in snow are just a few of the many mysteries students are unlocking in Christopher Rolinson's nature photography class. And they are learning in some of western Pennsylvania's most scenic locations.
Photography and photojournalism students enrolled in the specialty course this semester are practicing their craft in eight parks and nature sites in the region. The class meets on campus on Tuesdays and travels on select Saturdays. Students then post favorite photos and comments about skills being mastered.
After a recent trip to Frankfort Mineral Springs in Raccoon Creek State Park, Camelia Montoy discussed her growing understanding of how perspective and shutter speeds influence the art of photographing water. Other students noted their experiments using different depths of field to capture the details found in moss, tree bark and other textures.
At the end of January the class traveled to Presque Isle State Park to shoot the snow-covered beaches of Lake Erie and surrounds.
During February and March the students will visit Trough Creek State Park in Altoona, McConnells Mill State Park in Lawrence County and Ohiopyle State Park in Ohiopyle. In mid April they will travel to Forbes State Park in Somerset County, a trip that will include a climb an observation tower on Mt. Davis to shoot from Pennsylvania's highest point.
The Saturday excursions wrap up in late April with a trip to an abandoned stretch of the Pennsylvania Turnpike near Breezewood, Pa.
"Students are enthusiastic about documenting the wilds of Pennsylvania," says Rolinson.
Several years ago the associate professor of photography published "Our State Parks, Western Pennsylvania," a book of more than 90 images he shot at park sites from Erie County to the Maryland border.
Rolinson says his nature photography students don't need to be convinced to take their time as they get to know Pennsylvania's parks.
"Paying close attention to details is a motto most of us try to live by, or live by unintentionally even if we try not to," says student Allie Wynands in one of her posts. "It's just in our nature as photographers."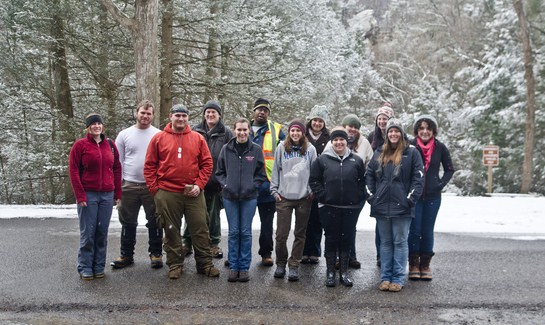 The class at Trough Creek State Park, photo by Christopher Rolinson

Top photo by photojournalism major Leah Irwin