more news
Students Examine Media and Culture During Class Trip to Italy
Friday, June 29, 2012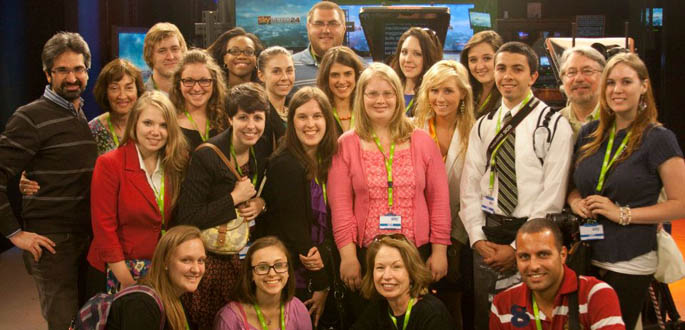 School of Communication students and faculty gather for a group photo at Sky Italia.
Point Park University School of Communication students in the International Media Class traveled to Italy for 12 days in May to get an inside look at how the media operate and learn about the culture.
Students and faculty toured print, radio and television stations, an advertising agency, universities, and a number of cultural sites in Rome, Florence, Assisi, Siena and Sorrento. The group met with leading industry professionals, including Pope Benedict XVI's chief information officer, and listened to a lecture at the American University of Rome regarding the role the Italian media played during the Amanda Knox conviction, trials and appeals from 2007 to 2011.
Learn more about the students' experiences by visiting the student-created website www.pointparkjournalism.com/italy.
"Not every student can afford to study abroad, and this course provides a taste of what it is like to live in another country. This trip to Italy is a perfect example of how classroom instruction and hands-on visits combine." - Professor Helen Fallon
 
"I think that all students should participate in this course if they are able to. The hands-on experience was worth more than any classroom experience could have provided. We formed bonds with each other and learned more about ourselves and the industry." - Amber McKivigan
"We touched old Roman columns and stood on the ground of the deathbed of hundreds of gladiators at the Colosseum. Another day we walked in and out of churches holding the remains of ancient saints. This is the type of learning that only study abroad students get. Lectures could happen in any classroom but learning by sight, sound and feeling happen in the moment." - Akasha Brandt
 
"This trip was a once in a lifetime opportunity. It was immensely educational and enlightening on what is clearly another culture and another media world from what we have here. It's especially gratifying to see our students reaction to the culture and how the Italian media operates." - Professor David Fabilli
"The Vatican experience was beneficial to my personal growth as a journalist and communicator because of the way in which it opened my eyes to new career opportunities. Watching the way in which they communicate their news to the broader world, I noticed that the systematic creation and coverage was very similar to other organizations." - Adelyn Biedenbach
 
"The media visits were extremely rewarding and helped erase assumptions about similarities and differences with our media. I couldn't believe that we had the opportunity to listen to and speak with the major people who keep those different forms of media up and running." - Laura Quinn
Photos provided by Adelyn Biedenbach, Mary Eklund and Erin Price