more news
Students get real look at media during trip to Washington, D.C.
Tuesday, April 26, 2011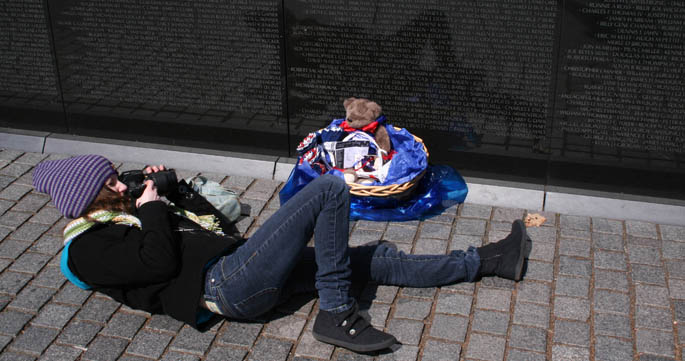 A student gets into the best position to photograph the Vietnam Memorial while on the School of Communication trip to Washington, D.C.
More photos
Click the photo to see additional pictures.
Related links
Journalism sequence
Visual and interactive communication sequence
Public relations and advertising sequence
Admissions information
Request information
Students and faculty from the School of Communication traveled to Washington, D.C. for three days in March to get an inside look at the communication industry. Students met media professionals, including editor-in-chief of DC magazine, and examined moments in news history at the Newseum, such as an exhibit about covering Hurricane Katrina.
"The trip made me excited about what I want to do professionally," said Kalea Hall, a sophomore print journalism and multimedia major. "It gave me a better understanding of what is involved in becoming a professional in the field."
A group of 22 students, four faculty members - Heather Starr Fiedler, Dana Hackley, Bob O'Gara and Chris Rolinson - and Dean Tim Hudson took part in this year's trip, which the school has offered to students for the past six years.
Fiedler, trip coordinator and associate professor of multimedia, said the Washington, D.C. outing has a dual purpose.
"Students get the experience of bonding with fellow students because they are able to talk to each other during the bus ride and the media visits, and they also get to see how media works in a large city," said Fiedler.
The group first headed to the Newseum, a museum that showcases five centuries of news, history and technology. Exhibits there included graffiti-covered segments of the Berlin Wall, newspaper front pages from Sept. 11 and videos about digital media trends like blogging.
"I liked the Newseum because I could see the different ways news has been covered over the years," said Natasha Acrie, a senior broadcast journalism major.
Highlights from the 2011 Trip:
DC magazine
National Geographic Museum
National Public Radio
Newseum
U.S. Chamber of Commerce
White House
WJLA-TV
There was also an alumni dinner where students got to talk with Point Park grads Joseph Walker of Walker Communications, a PR consulting firm, Ann Smith of Ann Smith Communications, a marketing communications firm, and Phil Smith, director of communications for the United Mine Workers of America.
Students and faculty attended an alumni dinner later that evening, where Point Park graduates gave tips for success after college and discussed their perspectives on the communication field, such as the integration of multimedia into journalism.
"I learned that you need to do everything, know everything in this field and be convergent," said Hall. "They all stressed that writing is very important."
On the second day, the group split up to explore the inner workings of various media entities. Print journalism, multimedia and broadcast students toured the offices and studios of National Public Radio, DC magazine and WJLA-TV, where they learned about the importance of writing skills. Public relations, advertising, photography and photojournalism students learned about the everyday duties of the staff at the White House Photography Office, then split up. The public relations and advertising students went to the U.S. Chamber of Commerce, while the photo students toured the National Geographic Museum. Each visit enabled students to ask professionals about opportunities in Washington, D.C., and the direction in which the industry is headed.
"It was interesting to see how public relations and political science come together," said Tom Cornell of his visit to the Chamber of Commerce. Cornell, a sophomore advertising and public relations major, added, "Before the trip, I had no idea how much the public relations employees do there."
Laura Quinn, a sophomore photography major, said she was impressed with the work of the White House photography staff.
"These people are shooting all the time," said Quinn. "Their work is used a lot more than I thought, which makes their photographs more widely appreciated."
Students had free time on the last day of the trip and were dropped off by the National Museum of Natural History to explore surrounding museums and monuments and reflect on how the trip affected their view of the communication field.
"The trip made me realize I would like to pursue my master's degree in political science," said Cornell.
"I learned that I need to keep up with the changes in the field and continue to refine my skills," Acrie added.
Quinn and Hall both said the trip was valuable.
"The trip teaches students what they need to accomplish while they are in college," said Hall.
Quinn said she learned to keep an open mind about the field and become well rounded.
"The trip is important because students get to see what goes on in the real world," she said.
To go on the trip, undergraduate and graduate School of Communication students filled out an application, including why they wanted to go on the trip. The cost was $250, which covered bus transportation, hotel accommodations, the alumni dinner and Newseum tickets. Students could also apply for scholarship money for up to $100, based on their financial need.
Article by Nicole Chynoweth, sophomore journalism and mass communication and multimedia major
Photos by Joel Brewton, senior photojournalism major