more news
Students hear first-hand how social media in sports have changed the game
Monday, January 14, 2013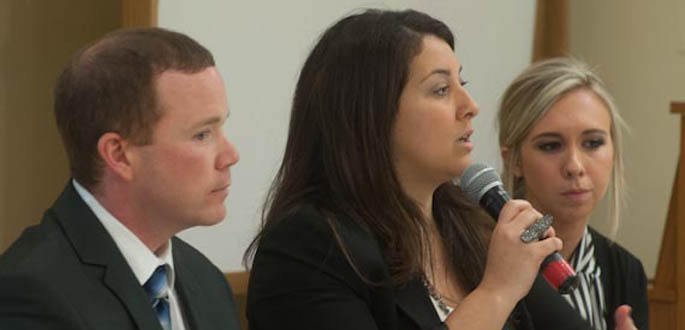 Pictured above from left: Terry Rodgers, Jennifer Bullano and Natalie Bigley.
A seminar hosted by the Pittsburgh Center for Sports Media and Marketing gave students an inside look at the role of social media in sports as they heard from communications pros for the Pirates and Penguins, along with a Point Park graduate student researching Twitter.
Terry Rodgers of the Pirates, Jennifer Bullano of the Penguins and student Natalie Bigley shared first-hand accounts of how social media have shaped the game, industry and relationship of sports during the Nov. 13 event, Game Changer: Social Media in Sports.
"It's so important to take advantage of these types of events on campus," said Lisa Tomblin, a non-traditional student majoring in journalism. "I learned so much about how to communicate effectively using social media and had the opportunity to network with the speakers."
Rodgers, a social media coordinator for the Pirates, began the seminar by explaining how important social media have become to strengthen the bond with Pirates fans.
"Our social media sites allow us the opportunity to interact with our fans in a way that we couldn't do before," he said. "Social media provides a direct link to our fans, offering them behind-the scenes access to pictures, videos and other content that they can't get from anywhere else."
Bullano, a Point Park M.B.A. alumna and director of communications for the Penguins, shared what she believes is the most important piece of advice when using social media.
"I tell the players that you have to think responsibly before you put anything on social media," she said. "Responsibility is key."
Bigley concluded the seminar by offering key points from her research on how Twitter has changed the relationship between professional football players and fans.
"Twitter is a huge medium and social media is changing the entire game," said the current M.A./M.B.A. student and freelance writer for the Tribune-Democrat, Johnstown, Pa. "Fans really like when athletes tweet random things because they get a glimpse of their personality. But it's a double-edged sword because fans can have a conversation with athletes 24 hours a day."
For information on future Pittsburgh Center for Sports Media and Marketing events as they are scheduled, visit the School of Communication news page.
Social Media in Sports Photo Gallery