more news
Students on Irish media trip meet with Ambassador Rooney
Monday, May 31, 2010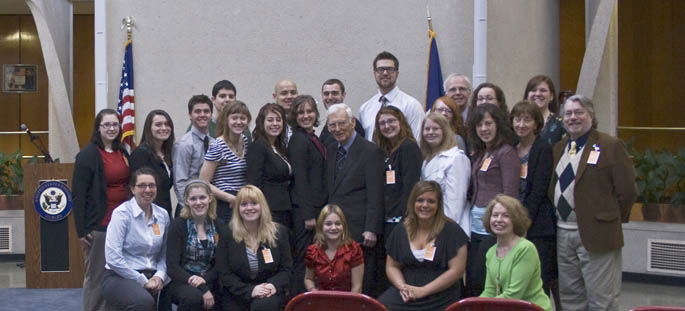 Point Park students and faculty on the Irish media trip gather for a group photo with Dan Rooney, U.S. ambassador to Ireland and chairman emeritus of the Pittsburgh Steelers. Below: Students present Rooney with Point Park gifts.
May 2010
Guest speakers in college courses give students a opportunity to hear about real-world experiences from unique perspectives. When the guest speaker is Dan Rooney, U.S. ambassador to Ireland and chairman emeritus of the Pittsburgh Steelers, and the setting is Dublin, the lesson becomes unforgettable.
Point Park University students on a trip to study the Irish media and culture had the great fortune to have on their itinerary not only a visit to the U.S. Embassy on Wednesday, May 12, but also an audience with Mr. Rooney and several staff members. They learned of his plans to visit all 26 Irish counties, enthusiasm for renewable wave energy, and interest in helping Ireland find solutions to its economic crisis.
"This looks like a great group of Pittsburghers," Rooney said as he walked into the reception in the embassy's rotunda. "It is really great to have you here. Your coming here has really made me feel at home."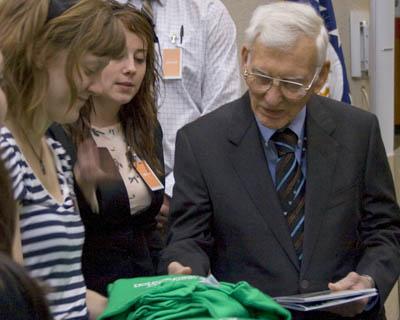 He had finished co-hosting a two-day international Marine Energy and Smart Grid Technology Workshop, coordinated by Ireland, Northern Ireland and the United States. He said that Ireland is a special place to develop new energy, and efforts need to be made to harness the winds and waves on the country's Western coast, as both a cost-saving venture and an investment opportunity.
"In Ireland," Rooney said, "[renewable energy] is a special thing. We have wind and now we're working on wave technology."
John Murphy, the ambassador's communications assistant, said "He believes that renewable energy is the way forward."
Rooney, who had just gotten off the phone with Irish President Mary McAleese, took time out of his packed agenda to take several pictures with the students and receive gifts from the University. He also told them he is looking forward to the July 4 football game in Ireland that the NFL is arranging.
Murphy discussed with the students parallels between the economic troubles that Ireland shares with the United States. He said that although the ambassador's position is not directly involved or attempts to influence a country's government, Rooney had some ideas to spur on a smart economy in Ireland and is sharing them.
Murphy has accompanied Rooney to town hall-style meetings in a dozen of Ireland's counties in an effort to address local concerns about the economy. "He loves the ordinary public," said Murphy.
The most popular question? "When is President Obama coming to Ireland?" Murphy said. He said the president, who has some Irish heritage, enjoys huge approval ratings in the country.
Point Park's students and faculty won't be visiting as many Irish counties as Rooney, but they will see Dublin, Belfast, Cork, Killarney, Cobh, Limerick and Cork as well as iconic spots in the country such as Blarney Castle, Ring of Kerry and the Cliffs of Moher. They return to Pittsburgh on May 21.
Point Park University's School of Communication offers a trip to students in the spring semester each year. Past excursions have included Toronto, Canada, and London, England.
Article by Andy McNeil and Aaron Kendeall, both master's degree students in journalism and mass communication
Photos by Bethany Foltz, 2010 photojournalism graduate