more news
Transfer Student Alex Peterson Discusses Why He Chose to Attend Point Park
Monday, March 25, 2013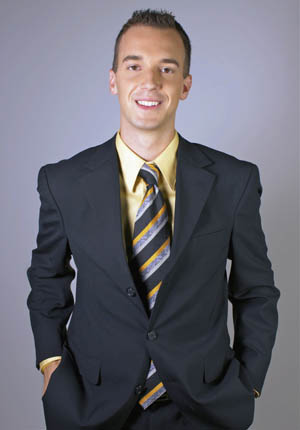 Meet Alex Britton Peterson
Major: Broadcasting reporting
Expected graduation: May 2013
College activities: U-View, WPPJ, The Globe, Green and Gold Society, National Broadcasting Society
Hometown: York, Pa.
High School: Central York High School
Hobbies/interests: Writing, Hollywood/pop culture news, television, cars, animals, language, movies and music
Why did you transfer to Point Park?
I transferred to Point Park from Indiana University of Pennsylvania because I wanted an urban campus, one where students are motivated to succeed and know why they are in college. I knew Point Park was in the heart of Downtown Pittsburgh and also offered invaluable connections that could help launch my television career. Students don't come to Point Park as an obligatory move after senior year in high school - they come here to build a future.
What was it about the School of Communication that made you choose Point Park?
I knew of Point Park's impressive list of former alumni who are leaders in the television industry, both in front of and behind the camera. Also, the TV studio is completely student-run - from directors, producers, crew members and on-camera talent. I was greatly attracted to the freedom Point Park's program offered, giving its students the feel of a professional studio and leaving it to them to fill it with content.
Why is your major a good fit for you?
I love interacting with people about things that fascinate them. When I see passion in someone's eyes and hear it in their voice, I want to know more and to share their story. Broadcasting is perfect for me because I love the art of communication, using words to build a relationship with audiences and to inform them of your take on things (and also to listen to theirs).
Why would you recommend Point Park to a prospective student?
Point Park is perfect because you won't be a number in an auditorium. You won't be an unknown face to your professors. The faculty take the time to know you, learn your strengths, ask about your dreams and then give you a little something in each class to help make them come true. You'll make friends in your major who you'll stay in contact with forever and rely on later in your career.
What are your career goals?
In five years or so, I hope to be working in either Los Angeles or New York as an entertainment reporter/correspondent for E! News, Entertainment Tonight, omg! Insider or a similar program. I'm enthralled with celebrity news and anything pop culture. I want to be the messenger between people and their guilty celebrity pleasures.