more news
Wood Street Communications Provides Real-World Experience for Students
Friday, January 9, 2015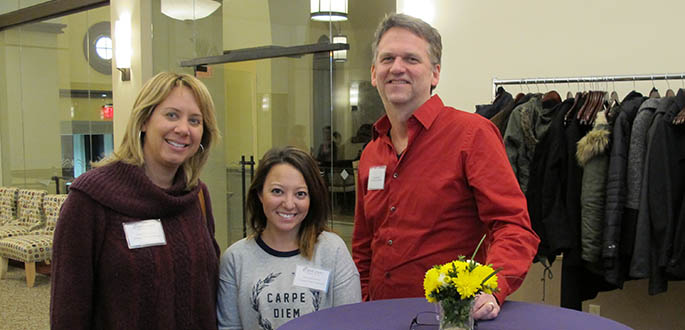 Village Green Partners employees and graduate student Dean Simpson at Wood Street Communications' fall showcase.
Students working for Point Park University's Wood Street Communications are gaining hands-on professional experience with a variety of nonprofits in the Greater Pittsburgh area. Launched during the fall 2014 semester, Wood Street Communications students served 25 clients creating integrated marketing communications and social media plans, designing posters, brochures and websites, and producing informational and marketing videos.
Photo Gallery
---
Learn More
School of Communication
Majors | Graduate Programs
Schedule a Campus Visit
"Wood Street Communications is an excellent opportunity to get high-quality communications services free of charge. It furthers the tradition of serving the community by allowing Point Park students to work with nonprofits and further their careers while in college," said Heather Starr Fiedler, Ph.D., associate professor of multimedia and director of Wood Street Communications.
Wood Street Communications is offered as an integrated marketing capstone class and select courses in photo, video, design and public relations. Students can also participate as part of their practicum, apprenticeship or apply for freelance work.
To celebrate their first semester in operation, students presented final projects to their clients at a showcase held Dec. 9 on campus.
Stone Sweiss, a sophomore double majoring in multimedia and broadcasting, and Jess Joseph, a sophomore multimedia major, designed five brochures and five posters for Cribs for Kids.
"I've never worked on a project for a national organization and I thought it was really cool to create materials that will be seen by so many people. It's great to have these pieces to add to our portfolios," said Joseph.
As part of an assignment for the Professional Video Techniques class, Zack Durkin, a senior broadcasting major, produced, shot and edited an informational video on health literacy for Gateway Health.
"Zack did a wonderful job on this project. I plan to share the video with community leaders and legislators to reinforce the message that health literacy needs to be improved across Western Pennsylvania," said Harry Manley (BUS 1991), senior community and program development specialist at Gateway Health. "I'm so excited that Wood Street Communications has been able to provide this video."
Completed Projects
Designed marketing materials for American Heart Association, Cribs for Kids, Maya Organization, Off the Floor Pittsburgh, Pittsburgh Aids Task Force and Three Rivers Workforce Investment Board
Shot a fundraising event for Mainstay Life Services
Produced videos for Family Hospice, Gateway Health, Life'sWork and Pittsburgh Concert Chorale
Created and implemented a social media plan for Penn Township Ambulance Association, Veterans Research Foundation of Pittsburgh, Village Green Partners and Zachary's Mission
Check out the student-created projects on Facebook and YouTube.
"Wood Street Communications provides students with a real-world experience that will give them a competitive edge when looking for internship and employment opportunities," said Emily Kolek, an M.A./M.B.A. student. "It also provides students with a networking opportunity, allowing them to build relationships with organizations that have a positive influence on the Pittsburgh region."
In the News
More About: M.A./M.B.A., broadcast reporting, M.A. in communication technology, multimedia, public relations and advertising, Wood Street Communications