more news
Work of student reporters plays role in outcome of criminal case
Thursday, January 28, 2010
Innocence Institute investigation contributes to inmate's eventual release from prison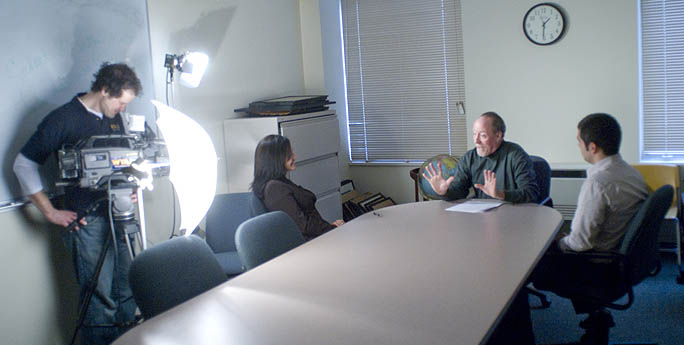 A crew from WTAJ-TV in Altoona interviews Associate Professor Bill Moushey, director of the Innocence Institute, and alumnus James Keaney about the Ernie Simmons case, which occurred in Cambria County. | Photo by Christopher Rolinson
Two Point Park journalism alumni got news on Dec. 31, 2009, that they never thought they'd hear.
A prison inmate convicted of a brutal murder and given the death sentence would be go free, due in part to investigative reporting the alums had done years earlier as student journalists for the Innocence Institute of Point Park University.
During their reporting, Nathan Crabbe and James Keaney interviewed a star witness in the case against a man named Ernie Simmons. In that interview, the woman recanted crucial testimony she had given at trial. Her new statements, along with issues of questionable conduct by police and prosecutors, were cited by a federal judge in ordering a new trial.
Rather than face retrial, Simmons accepted a plea bargain that means he will be released from prison sometime in 2010, a development that has drawn news media coverage to the Innocence Institute for its role in the case (see WTAJ-TV's report, part 1 and part 2).
"I don't know about Ernie's actual innocence, but from our reporting we established that people lied, people hid evidence and he wasn't given a fair trial," said Crabbe, now a reporter with The Gainesville Sun in Florida.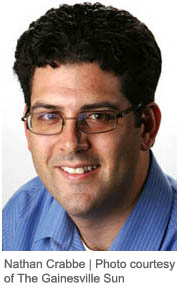 "It's definitely my proudest work as a reporter, hearing that our story resulted in justice being upheld," he said. "Investigative reporting is rewarding, and it's the results that take it to a different level than any other kind of reporting."
Keaney, who has followed the case over the last several years, called the outcome "amazing."
"Him being out of prison, it's rewarding to me," said Keaney, who graduated in 2004 and now works in online marketing for IMPAQT, a Green Tree company. "I don't know today if Ernie is guilty or innocent. The only thing we did was tell his story."
The Innocence Institute of Point Park University is among 73 such projects around the United States and abroad, but only a few are journalism based. At Point Park, the Innocence Institute is part of the School of Communication and operates under the direction of Associate Professor Bill Moushey, an award-winning investigative reporter for print and broadcast news organizations.
Point Park undergraduate and graduate students take classes, or work as graduate assistants and in other capacities, to probe into and write about allegations of wrongful convictions, carefully culling through hundreds of inquiries each month from prison inmates proclaiming their innocence. Students read court records, visit crime scenes and find all witnesses, not only seeking proof of actual innocence, but learning the intricacies of the criminal justice system.
"The Innocence Institute is a place where young, aspiring journalists can work toward finding the truth in these cases," Moushey explains.
"Students discover they can change the world, and that Point Park is a place where they can do that," Moushey continues. " Students have left this organization and exonerated people on their own at little newspapers all across the United States."
Back in 2003, a letter from inmate Ernie Simmons stood out. Moushey assigned the case to Crabbe, a graduate assistant pursuing his Master of Arts in journalism, and Keaney, an undergraduate who had transferred from the University of Pittsburgh-Johnstown for Point Park's journalism program.
The pair began to investigate, reviewing court records, interviewing witnesses, talking to police and attorneys, and corresponding with Simmons.
"The more we dug and the more we uncovered, the more we realized this was something that had legs," Keaney recalls.
Their work included a trip to Cambria County, where the murder took place. In court records, they found the address of key prosecution witness Margaret Cobaugh. Crabbe and Keaney went to her house.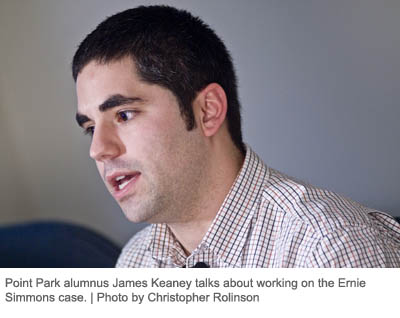 When she answered the door, they introduced themselves as student reporters. Cobaugh agreed to talk with them. As they discussed the case, Cobaugh made a statement contradicting her crucial trial testimony that had identified Simmons.
"When she said that, Nathan and I kind of looked at each other in disbelief," Keaney remembers. "She said it plain as day."
Cobaugh's statement was included in a subsequent Innocence Institute story and contributed to growing questions about the case. The federal judge's ruling that Simmons deserved a new trial specifically quoted the Innocence Institute's story.
"The students did an absolutely tremendous job," Moushey said of Crabbe and Keaney. "If Margaret Cobaugh doesn't recant to these guys, the case doesn't flip."
Crabbe, who received his master's degree in 2005, draws on his Innocence Institute experiences in reporting for The Gainesville Sun, including stories on inmate executions in Florida.
"Some journalism schools are more focused on research and preparing people to teach or do something more scholarly. Point Park's program is about hands-on experience and preparing students to jump right into actually being reporters," Crabbe says. "If you are going to get a job in journalism, the only way to do that is having actual reporting experience. At Point Park you can get clips that are not only actual reporting, but reporting of the highest caliber. "
Keaney, who loves his career in online marketing, says the Innocence Institute was a tremendous experience for him and encourages today's journalism students to get involved.
"It's a unique opportunity that Point Park has for kids interested in getting into journalism," he says. "It's something you can't pass up."
Related links
Learn more about the School of Communication