more news
WPPJ receives first place awards at annual broadcasting conference
Tuesday, March 12, 2013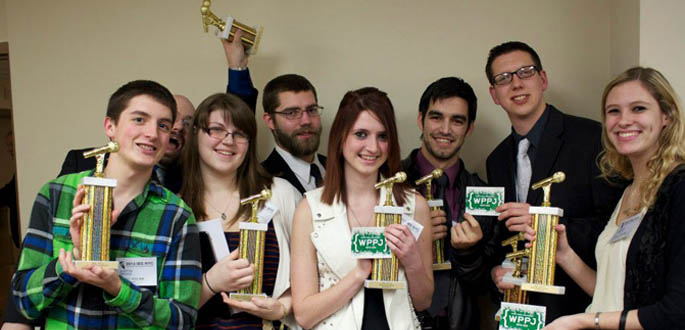 WPPJ staff members pictured above from left: Justin Druga, Wayne Weil, Liz Layhew, Andrew Schacht, Kelsey Diercks, Nicholas Sperdute, Aaron Cooney and Aubrey Henken.

WPPJ, Point Park University's student-run radio station, was recognized by the Intercollegiate Broadcasting System at the 73rd Annual IBS National Conference in New York City March 1-3. The group travelled with David Fabilli, professor of broadcasting and faculty adviser of WPPJ.
WPPJ was nominated for five IBS awards, winning first place in the categories of "Best Sports Update" (broadcasting reporting majors Aaron Cooney and Nick Sperdute) and "Best Celebrity Interview" (broadcast production and programming major Liz Layhew and broadcasting reporting major Wayne Weil, WPPJ Morning Show hosts) for an interview with WQED-TV producer Rick Sebak.
WPPJ staffers were also finalists in the categories of "Best Sports Play-by-Play" (Aaron Cooney and broadcasting reporting major Matt Desmond), "Best Talk Program" (Liz Layhew and Wayne Weil) and "Best Celebrity Interview" (Wayne Weil).
During the trip, the aspiring broadcasters had the opportunity to network with Point Park alumni working in the media in New York City. The students also met nationally known radio host Curtis Sliwa, watched a production of Anderson Cooper Live, and toured Fuse News and the Paley Center for Media.
IBS is a national college radio station organization made up of over 1,000 college radio stations from across the United States.
Learn more
Learn more about Point Park University's School of Communication.
Photo courtesy of IBS