more news
2012 Alumna Works as Haunt Manager at The Scarehouse
Monday, November 19, 2012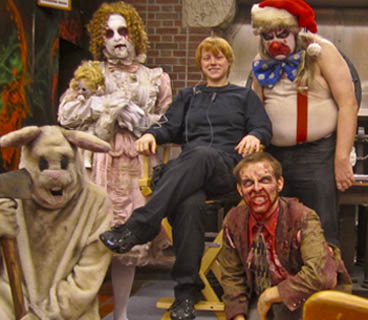 Lori Colbert (center) is pictured with Scarehouse actors.
Lori Colbert, a 2012 graduate of Point Park University's technical theatre and design program, is enjoying the unique workplace challenges as forsaken haunt manager at The Scarehouse, one of Pittsburgh's most well-known haunted attractions.
During the Halloween season, Colbert spends her time assigning roles, coaching the actors, checking the technical aspects of the haunt and monitoring the area for potential problems. When the Scarehouse is closed she works to schedule and plan for the upcoming season.
Colbert said her Point Park education provided her hands-on experience in her major.
"As a student at Point Park, I worked as a scenic designer, carpenter and as a props master," said Colbert. "Instead of looking over someone's shoulder to learn, I had someone looking over mine to provide help if needed."
Colbert's advice to students and graduates of the theatre program is to never give up, learn as much as you can and take advantage of every opportunity at Point Park.
She credits much of her success to the Conservatory of Performing Arts faculty and staff for encouraging her to pursue her dreams.
Learn More
Learn more about the Conservatory of Performing Arts at Point Park.
Article and photo by Kayleigh Smith, junior public relations and advertising major