more news
2012 Alumnus James Ogden is a Stage Manager at North Carolina Dance Theatre
Monday, July 15, 2013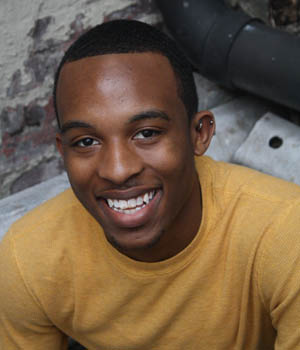 Meet James Ogden II
Degree earned: B.F.A. in theatre arts with a concentration in stage management, 2012
Job title: Stage Manager, North Carolina Dance Theatre
Hometown: Newark, Del.
Now living in: Charlotte, N.C.
High School: Cab Calloway School of the Arts, Wilmington, Del.
College activities: Production stage manager for the 2011 season of Theatre West Virginia, sound board operator for Jesus Hopped the A Train with Barebones Productions, light design/technician on various events at the Kelly Strayhorn Theater
Hobbies/interests: Dancing, hip hop, seeing a fun show
Why did you choose to attend Point Park to pursue your B.F.A. in theatre arts?
It seemed to give the most hands-on experience alongside working professionals. There are three student companies of diverse theatrical genres, on top of a professional company, The REP, under the Actor's Equity Association.
What is a typical day like for you as a stage manager?
Generally, a typical day for me is spent in rehearsals, anywhere from three to six hours a day. There I take blocking/music notes, as well as help out with audio/video playback. When not in rehearsals, I'm usually in the office creating and updating paperwork, editing music or creating video excerpts/reels of the company. The company performs five main productions a season in different venues throughout the city. There is always paperwork to be done and rehearsals to sit in on.
Describe the theatre arts faculty.
The theatre arts faculty consists of working professionals with extensive resumes that continue to grow in front of your eyes. They are working artists at local, national and international theatre companies. I do not know of one faculty member that did not work professionally outside of Point Park during my four years of study. Go to any professional theatrical company in Pittsburgh and you are guaranteed to see a Point Park connection. The faculty does not only teach what they once knew to be the way, but what they know works out in the world today.
What was it like working on productions at the Pittsburgh Playhouse as a student?
There was nothing greater than working on productions as a student at the Pittsburgh Playhouse. I was able to work alongside professionals and talented peers. I was allowed to take on various roles with immense support.
What advice do you have for prospective students?
Don't take your time at Point Park for granted. You have access to one of the greatest professional networks with some of the best facilities. Take the time out to try new things and work on projects that you aren't comfortable with.
What are your career goals?
Like most, I want to continue to be able to do what I love with financial stability. I hope to be able to continue to ride this great ride and to continue to take on challenging tasks. Tangible dreams include stage managing a world tour and to one day stage manage a show on Broadway.
More About: theatre, success story, stage-management, alumni, Pittsburgh Playhouse