more news
2013 Alumna Nicole Soriano Lands Leading Role in Berenstain Bears Live! The Musical
Wednesday, June 17, 2015
Meet Nicole Soriano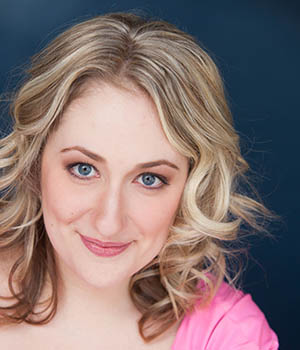 Degree earned: B.F.A. in musical theatre, 2013
Current role: Mama Bear, The Berenstain Bears Live! in Family Matters the Musical
Hometown: Middleton, Mass.
Now living in: New York City
High school: Masconomet Regional High School
Hobbies/interests: I love to cook, shop and spend time with friends and family
How did you land your role as Mama Bear?
I signed with an agent immediately following Point Park's New York City Theatre Showcase. Having an agent is great, but it is also important to go to auditions on your own (I actually landed Berenstain Bears on my own).
I was choreographing a show for the Boston Children's Theatre and I received an email from the Bears casting director (she saw me in Point Park's Showcase and at a few other auditions). She asked me to come in for an appointment, but I was already in Boston and turned it down.
Last December, I saw the posting for the new cast and emailed the casting director to ask for an appointment. During the call back, they asked me to make a really bold choice and some crazy accent came out of me that made everyone laugh. Now I get to do that accent every day (shout out to Phil Winters for the solid voice and speech training). The call came a few days later and my journey began as Mama Bear.
Why did you choose to attend Point Park?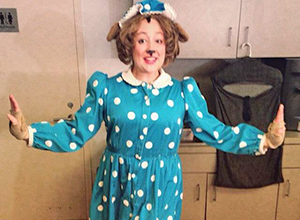 I grew up training at a professional theater in Massachusetts where I met and worked with many Point Park students and alumni. I was so impressed with their talent and level of professionalism that I added Point Park to my list of schools to audition for, and the rest is history. I began dancing at a young age and knew that I also wanted to be a choreographer eventually, so I was initially very drawn to the strength of the dance program. When I realized the strength of the theatre program as well, I could not wait to be there.
Please share any influential experiences you had during your training at Point Park.
I grew exponentially both as an actor and as a person at Point Park. Some of my most influential experiences were definitely in my musical theatre technique classes - that moment when you nail a concept you've been working on for weeks, when you feel more connected to the material than you ever expected or when a classmate makes a breakthrough and you're there to see it happen.

There were so many people who influenced me. Zeva Barzell is one of the most incredible teachers, coaches and mentors. Her coaching changed me and helped me to understand myself as an actor and as a person.
Jack Allison is another person I am seriously grateful to have studied with. He taught me how to get to the heart of the material and that is something I carry with me in everything I do.
And I will never, ever forget the legendary Ron Tassone. I am the dancer, performer and choreographer I am today because of him. The news of his passing earlier this year struck me very hard, but I know he is up there dancing with the angels. Every time Mama Bear bevels, she bevels for him.
What challenges have you faced thus far in your career?
Being an actor is one huge challenge in itself. There have been times that I thought that I just can't do this, but then something happens in an audition that makes me remember why I do it. My first year living in New York City was a huge challenge but I managed to survive and it was all worth it. I love my job!
Anything else you would like to add?
My sincerest appreciation for everyone I worked with and learned from at Point Park; I am so proud to be a Point Park alumna!
More About: musical theatre, alumni, Conservatory of Performing Arts, success story