more news
2015 Cinema Grad's Photo Series 'Perception of Complexion' Gains National Attention
Tuesday, June 16, 2015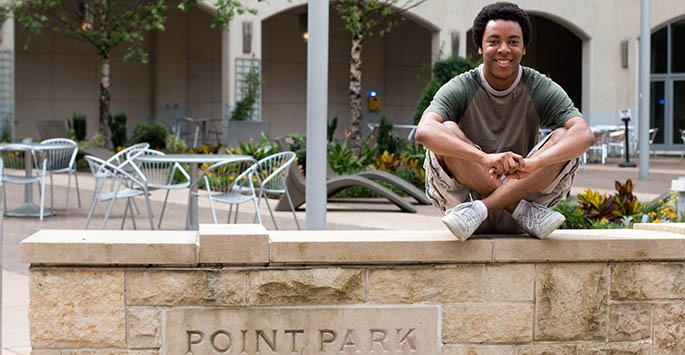 Ej Brown is too young to remember the riots in Los Angeles over the beating of Rodney King in 1992, but he can easily point to what happened on Aug. 9, 2014, in Ferguson, Mo., as a pivotal moment in his thinking about race and the complex perceptions that come along with it.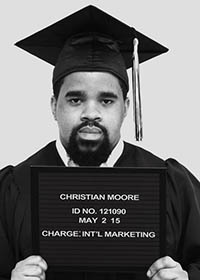 A photo from Perception of Complexion
To help grapple with the frustration many young African-American men feel over the deaths of Michael Brown, Trayvon Martin and Freddie Gray, Brown took to visual imagery. He created a stark series of photos that feature classic police mug shots of several of his fellow Point Park classmates. Dressed in traditional cap and gown, each young man holds up a police placard that indicates his date of graduation and program of study instead of a criminal charge.
Perception of Complexion, as Brown calls the campaign, has generated considerable attention on social media and in national media outlets such as the Huffington Post. Brown, a 2015 cinema production graduate, says he didn't set out to create a viral campaign, but he did need a way to express what he and many of his friends were feeling.
"I had become so angry at how our society, the police and the media have generalized black men and people of color in general," said Brown. "I felt the need to do something constructive so I ran to art. I wanted to knock down that wall and challenge people to look beyond the pigment of someone's skin and the stereotypes attached to it."
Below, Brown shares more about Perception of Complexion.
"A lot of my peers, especially those from Point Park, have been so supportive and loving, and I think that stems from our school being so artistically driven."
-- Ej Brown

---
Related Links
Tell us about how your art project became a campaign?
When I put the images on Facebook I figured I'd get a couple of shares and some likes, but it was my good friend and roommate at Point Park, Philip Echelberry, who recommended putting it out on Tumblr. From there it just took off. After so many re-tweets, shares and likes, we realized that this was something bigger. Thankfully two of our participants were marketing and business majors and they really pushed for outreach.
Did your academic environment influence your effort?
I came in as a freshman cinema production major not knowing a thing about film. By the time I reached my senior year, I had found a way to integrate nearly every academic subject with my major. I wrote a science research paper about DNA cloning as if it was a movie analysis for Jurassic Park. For History 101, I wrote, sang and performed a song about the Red Scare in Hollywood and the Hollywood Blacklist. Creativity is everywhere and Point Park really encourages students to soak it all up.
What would you say to students looking to explore something so personal in such a public way?
Art is about saying something you believe in. Embrace who you are at the core. Once you do that you'll discover that you have a gift and that your gift has a calling. Everybody has one. It may be with how you write, cook, dance or teach. I believe my gift is in the arts, and my calling is to create peace and understanding. I genuinely care about people. I'm beginning to realize that everyone has a story, and sometimes it's best to just listen.
Has the reaction to "Perception of Complexion" impacted you and your career goals?
The reactions have been humbling. A lot of my peers, especially those from Point Park, have been so supportive and loving, and I think that stems from our school being so artistically driven. As a cinema production graduate, I really don't know where this campaign will take my career but I think it may have set my life on a whole new course all together. The best thing I can do is embrace and enjoy the journey.
In the News
Ej Brown's photo by Victoria A. Mikula, junior mass communication major
More About: alumni