more news
Academy Award-Nominated Director Hosts Master Class at Point Park
Tuesday, April 30, 2013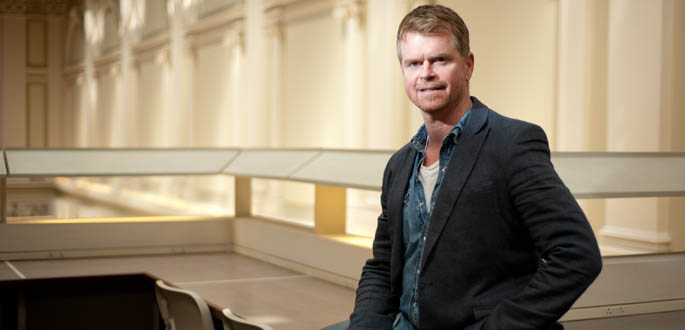 Pictured is Academy-award nominated director Scott Hamilton Kennedy. Some of his major credits as a director include Fame High, The Garden, Faking It and OT: Our Town.
During the spring semester, Academy award-nominated director Scott Hamilton Kennedy led a master class with Point Park cinema and digital arts students on how to make an engaging documentary.
Nelson Chipman, chair of the cinema and digital arts department, introduced and welcomed Kennedy to campus to present "From idea to Oscar nomination: Making a documentary that can make it to market." While in town, Kennedy led two film workshops in conjunction with Carnegie Mellon University's 2013 International Film Festival.
Kennedy began the class by asking the group of aspiring filmmakers and high school students from Pittsburgh CAPA to provide their definition of a documentary.
"A documentary is a presentation of the filmmaker's perspective of an event, idea or topic," said Angela Semple, a senior majoring in cinema and digital arts.
John Rice, senior teaching artist, added, "It's a presentation of a filmmaker's perspective on events in a different narrative - in essence, it's reality."
According to Kennedy, a documentary is one's adaptation of reality/true events.
"The most powerful artist has a point of view, but be careful about putting the issue before the story," he said. "It's a long journey making a film, so adapt as you go. Ask yourself, do you have a story to tell, what is that story and what's the best way to tell it?"
Kennedy also offered helpful advice about pre-production, casting, filming, post-production and distribution.
"As a student filmmaker, I learned about distributing a finished film and how to get coverage in major newspapers," added Semple.
When asked what his advice to students considering a career in the industry, Kennedy offered his suggestions for success.